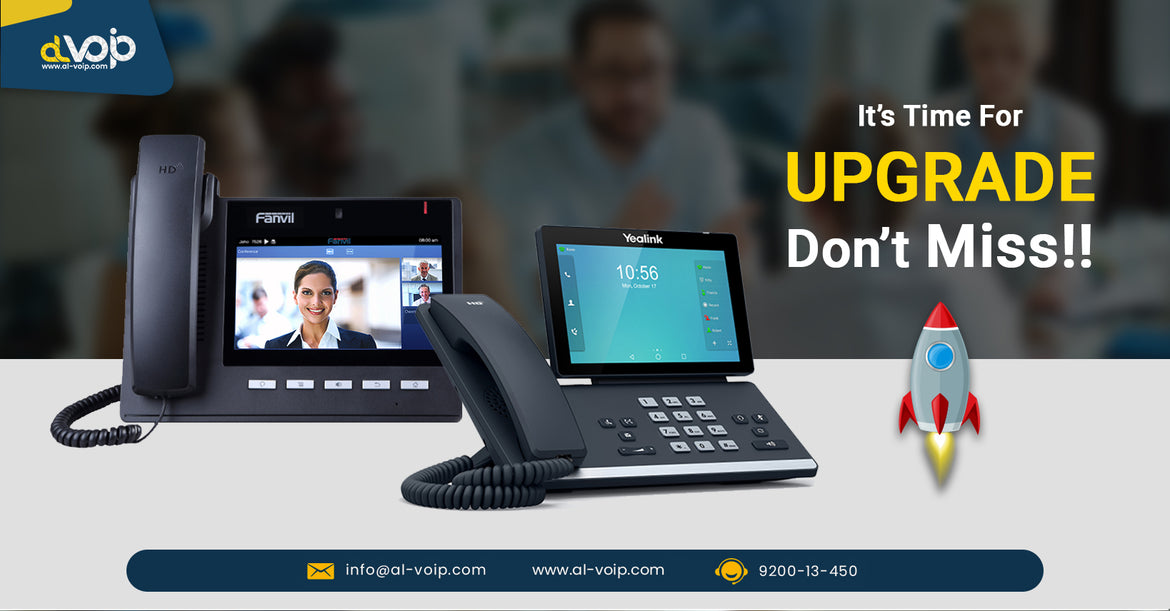 6 Reasons Why to upgrade your business phone ?
Big Data, Business Phones Systems, Business VOIP, call center, Call center Systems, case study, category, Cloud, cost, CRM, Digital Transformation, Door phone, IP Phones, ipphones, partnership, PBX, Protection, SIP, ternds, tips, trend, video, video conference solutions, video conference systems, Video Conferencing Solutions, VoIP, VoIP Phones, VPN, yealink

22 Mar, 2022
Features of phone systems today are more advanced than before, so if you're planning to upgrade your business phone systems, here is your guide to do this.
There are 6 main signs to upgrade your business phone system:
1.Traditional phone systems cost too much: 
The cost of old phones is usually high, starting from equipment, installation, maintenance, licensing, phone lines and international communications as well. And sometimes the phone bill is very high and unpredictable, but when you upgrade to VoIP phones, you will save the bill cost by up to 60% and also enjoy unlimited free local and international calling rates, save hardware and wire costs, an easy-to-use phone system dashboard, and few costs to add lines and new phone locations.
2. Traditional phone systems are becoming stale:
Traditional devices have become negligent, especially if a piece of your device fails, it will be difficult to be repaired or get a replacement for it, and its maintenance will also become expensive, therefore adapting to modern technology will become more difficult in the presence of the old ones. So you can think about adding a CRM new office phones or internal collaboration tools to your setup, upgrading to a new phone system will be beneficial at the same time.
3.Your phone system can't grow with your business:
It's not realistic to stick to a phone system that retards or completely inhibits your growth. If your company is growing rapidly and expanding to new locations and it is complicated or expensive for you to add new phone lines or open new offices, then you are ready for the new business phone system. With VoIP services, you can add new phone lines and users with just a few clicks. It helps your business grow and expand.
4.Phone system is important to your business:
If you use a telephone system to provide customer service, cheer up your customers, talk to potential customers, close sales, collaborate with co-workers; it is critical to have a modern telephone system for the success of your business. This means that your phone system is what makes or breaks your productivity, customer loyalty, and your chance of generating new revenue. If you can't function without your own phone system, you need one that you can rely on in all circumstances.
5. Old Phones have security susceptibility:
Conventional telephone systems that transmit calls using voice signals are always at risk of being intercepted by attackers. But VoIP phone systems offer higher security, reliability, and privacy for businesses. Respected VoIP providers are investing in military security with Session Border Monitors (SBCs). SBCs act as firewalls that maintain performance and logical call routing, so your data doesn't end up in the wrong hands. Cloud phone systems meet the most stringent security standards. Don't make your phone system secure and think later and wait until it's too late.
6. Traditional phone systems can't support remote employees:
If you want to add a phone line that isn't connected to your office phone, the old phone system will hold you back. If an employee is transferring their locations, he/she cannot easily transfer the phone number to the new location. Your employees can be more flexible with VoIP.

When you switch your phone system to the cloud, your employees don't need to connect to the same physical phone line network. They can take their phone number and their entire phone features home with them through a soft phone or VoIP desk phone. This way, your entire workforce will be connected while providing all your communications on a single, easy-to-manage phone system. Remote teams can stay organized, focused, and flexible in their workday.
Explore our website, Get our FREE consultation, or simply give us a call at  920013450 to learn more about VoIP service!