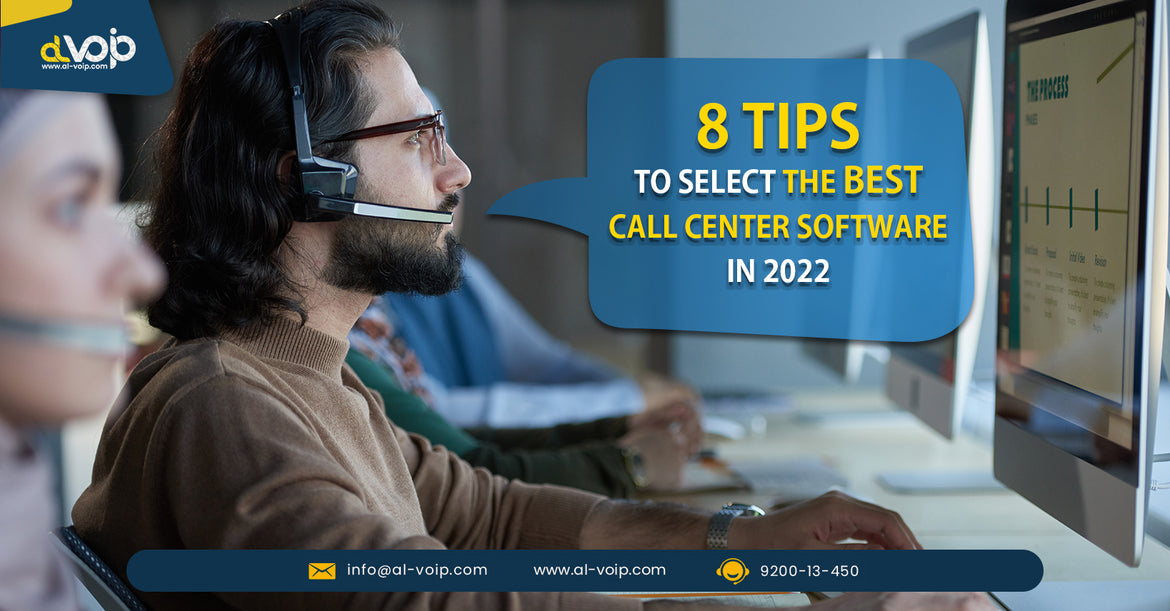 8 Tips for you to select the best Call Center Software in 2022
Big Data, Business Phones Systems, Business VOIP, call center, Call center Systems, case study, category, Cloud, cost, CRM, Digital Transformation, Door phone, IP Phones, ipphones, partnership, PBX, Protection, SIP, ternds, tips, trend, video, video conference solutions, video conference systems, Video Conferencing Solutions, VoIP, VoIP Phones, VPN, yealink

10 Jan, 2022
The good part is that the process of checking software platforms and vendors is much easier than it used to be. Here are a few things you need to look out for:

1. Software type
Not all call center software is created equally. There are a number of different types. The main categories are on-premises, cloud-based, hosted and browser-based. By far, the most popular modern platforms are cloud-based, but there are situations where businesses can take advantage of other formats. Consider your needs and weigh the pros and cons of each.

2. Integration

Your call center is not a standalone system. It needs to interact with other parts of your business. Ensure that any call center software you consider is capable of integrating with CRM, social networking tools, help desk software, and even marketing tools. The last thing you can put up with is separation, which will lead to frustration and a lack of communication between employees and customers.
3. Technical support

On a related note, you have to choose a seller that offers good technical support. When something goes wrong - and it will from time to time - you can't just sit back and wait for a solution. You need the seller to address the underlying issue quickly and efficiently so you can get back to serve your customers. Some sellers do a better job of providing technical support than others.
4. Price

You will notice that the price is last time in this listing. If you look at the price first, you'll probably rule out call center software that might be a good fit for your business. You will also find that you become obsessed with quotes and how many different sellers are willing to charge you. While cost is certainly important, you should avoid letting it be the only factor to base your decision on. It is better to spend a little more time and get better features and services.
5. Scalability

Your business is nothing but a constant. From month to month, you experience tides and periods. If you invest in call center software, you shouldn't risk obsolescence in the future. Ensure that any software you consider is fully scalable. This will allow you to quickly add agents, adapt to handle a fluctuating call volume, and add or remove features as you see fit. 

6. Technical support

Speaking of features, do you know what features you need? Each vendor offers different software with their software and you need to prioritize the ones that mean the most to your call center. Popular features include automatic call distributor, interactive voice response, skill-based routing, call control, action codes, call recording, whisper training, and call queuing. 
7. Easy to deploy and use

How easy is it to deploy the program in your organization? Is it as easy as logging in and getting started, or will you need to hire a consultant to come and meet with your team for a week to do the training? There is a lot to be said for a system that is easy to deploy and use. It will make things easier for you in the long run. 
8. Customer Service

The way a call center software vendor deals with their customers can be a determining factor in whether or not you want to look into it anymore. Not only do you want to see the seller being polite and helpful, but you also need to know that they are responsive.
Customer service:
920013450
WhatsApp:
+966 537631266
Email:
info@al-voip.com