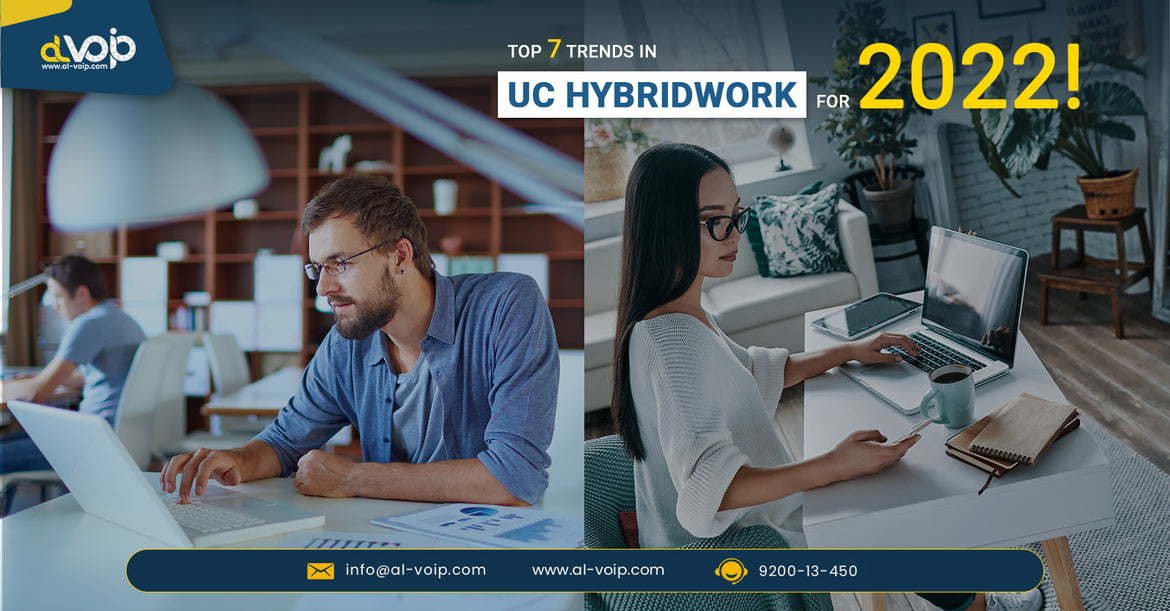 Discover The Hottest Trends in UC Hybrid Work for 2022?
Big Data, Business Phones Systems, Business VOIP, call center, Call center Systems, case study, category, Cloud, cost, CRM, Digital Transformation, Door phone, IP Phones, ipphones, partnership, PBX, Protection, SIP, ternds, tips, trend, video, video conference solutions, video conference systems, Video Conferencing Solutions, VoIP, VoIP Phones, VPN, yealink

22 Mar, 2022
Hybrid work is one of the most fascinating topics in Unified Communications. Since Corona's pandemic, we are forced to re-think teamwork, we've discovered a variety of personalities with unique demands.
Teams must be ready to change as the move to a hybrid workplace continues in 2022. The firms who keep an eye on the newest trends and technologies will win.
Here are some of the hottest trends we believe will affect the hybrid workplace and your Unified Communications tool selection in 2022.
1- Employee welfare
During the epidemic, employees had serious mental health issues due to the environment, workforce changes, and other concerns. Staff who felt undervalued by management considered resigning and looking for a job else.
The correct UC investments might help ensure employee health and happiness of hybrid work. Microsoft Teams, with its Vita advancements, may help teams achieve greater work/life balance. These techniques may also help preserve emotional bonds among employees.
2- Customizing UC tools
While various team members may demand distinct UC technology experiences, all employees will require the same knowledge and innovation.
Customizing UC environments for each team and workforce segment may become increasingly important in the future. Companies must choose Unified Communications technology from providers that can provide extremely adaptable technology. Allow team members to customize their UI on each device or add unique integrations.
3- Establishing COVID-Free Environments
Even as the public's focus on the epidemic continues to decrease, having a covered-safe work environment will be vital in the future. To provide for more distance between employees, meeting rooms will need to be larger. Hands-free devices and equipment will be required, lowering the danger of virus transmission. Some businesses may need to invest in tracking and analytics software to assist them control things like room temperature and occupancy levels.
4- Virtual Reality Collaboration
While it may take some time for virtual reality to find its way into every work setting, the concept is becoming increasingly appealing. Virtual reality collaboration might be the key to guaranteeing that specialists can continue to collaborate and connect from anywhere on the planet.
Employees will access the support of technicians and engineers wherever they are using virtual reality headsets, minimizing the requirement for several members of staff to be on-site at all times. VR technologies might help teams produce more innovative products faster in the hybrid workplaces of the future, without wasting critical materials. Making sure your UC system works with VR might be a crucial decision for buyers in the future.
Explore our website, Get our FREE consultation, or simply give us a call at  920013450 to learn more about VoIP service!