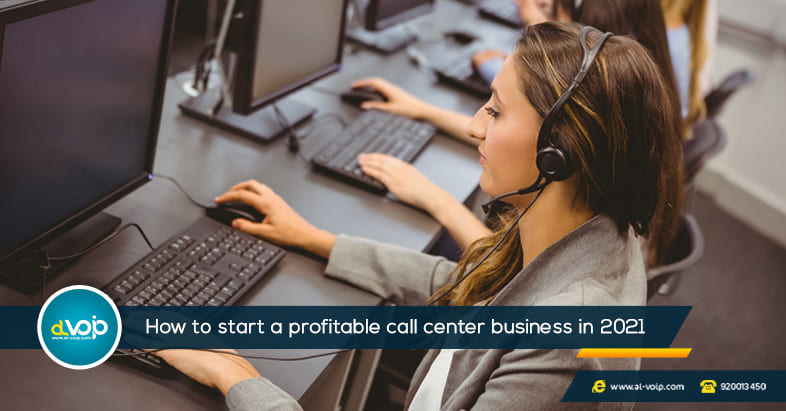 كيف تنشئ مشروع كول سنتر مربح في 2021
Big Data, Business Phones Systems, Business VOIP, call center, Call center Systems, case study, category, Cloud, cost, CRM, Digital Transformation, Door phone, IP Phones, ipphones, partnership, PBX, Protection, SIP, ternds, tips, trend, video, video conference solutions, video conference systems, Video Conferencing Solutions, VoIP, VoIP Phones, VPN, yealink

21 Jan, 2021
Are you thinking to start a call center business in 2021?

Then, you are on the right track.
With the new normal of the business world after the pandemic and the lock-down events, thousands of businesses headed to rely on call centers and outsource their call operations rather than dealing directly with their customers.
Despite the rise of digital service and support channels, call centers continue to be essential to companies worldwide. Almost 75% of customers prefer voice communication -via a phone call- over any other customer service channel
So that's your chance to run your call center which remains a profitable business in 2021.
We will go through 3 steps to establish a call center business:
Step1: planning your call center
In this step, we will answer 3 basic questions:
1- What is the type of call center you want to run?
Before you start a call center business you need to decide about what type of call center you want to run.
There are two basic types of call centers:
ِِA. On-site call center: 
An on-site call center means that you operate your business from a specific location where all of your employees and equipment are existing in the same place.
On-site call center advantages:
Build your business in a fixed location (you own a tangible asset). You can choose a central place to target large companies that have specific requirements. Establish your business in an urban area that secures your high-speed internet connection and easy access to public transport.
Your agents' training and performance monitoring can be more efficient.
On-site call center concerns:
On-site call centers may need a big budget because you need to pay for
the hardware and rent of the place and other arrangements for the office.
Pro tip
To reduce the expenses you can offshore your on-site call center which means to open it in a foreign country where lower wages, minimum setup, costs cheaper and rent for call centers.
B. Virtual call center: 
A virtual call center will be entirely remote. As your staff working from home and interaction with them will be through the internet.
Virtual call center advantages:
Good option if you have a low budget. You can use this type as an experiment before invest a larger amount of money in a central location. You will not have to pay overheads like rent, electricity and internet subscription.
Virtual call center concerns:
Less control on your agent (we will know to fix it later). Your employees may feel lonely and isolated.
Choosing any of these types depends on your budget and your readiness to lead a large group of employees in the workplace. But both of them will be convenient.
2. What your call center will do?

You need to focus your business to provide a specific service so you can distinguish and scale faster.
You can specialize in one of these two services:
A. Outbound call center services: 
You will make calls to customers on behalf of the business or client. Usually, for lead generation, telemarketing, conduct surveys or confirm an appointment.
B. Inbound call center services: 
That handles exclusively calls coming from customers "call reception" Your services will include taking orders, providing customer support, and responding to inquiries.
3. What is your target market?
It's important to target a particular industry for your call center business.
Call centers are looking for companies that don't have the resources to establish a call center. Most companies aren't prepared to run a call center, so they outsource it to a specialized call center like yours.
Pro tip:
some industries-like the medical sector- requires a level of experience that you may not ready to have, so carefully go through a potential client that fits your agents' capabilities.
Step 2: hiring your call center staff:
1. How many employees you will need in the call center?
Hiring the right number of employees is an important issue. You don't need to bear unnecessary costs or miss your target, and this comes through:
A. In virtual call center: 
It's preferred to start with a small experienced team. Because they will be easy to manage. They will have enough experience about the ins and outs of business and the industry. You can assure that your operations will stable faster
B. On-site call center hiring: 
On the other side, you can hire for your on-site call center from 40 to 60 agent at the beginning. You may think it is a big number of employees but you already invest a proper amount of money in this business so you need to work on a big scale to secure as much as possible of revenue.
Pro tip:
our advice to hiring a balanced mix of experienced agents and trainees –students for example- your experienced agents can guide the trainees and keep your operations smoothly. Without concerned about salaries.
2. How to choose the right call center agents?

A. In an on-site call center: 
You should choose the agents in the same city. So they will have easy access to your workplace. Attendance in time is the number one role for call center agents because in this business time means money.
Considering that not every candidate may be skilled for the job, so you must give them an assignment before you offer a job.
All call center employees must possess excellent communication skills, the ability to maintain and explain the information about products and services, and display exceptional patience and discipline.
Pro tip:
your hiring process must align with your setup as this process may take a long time
B. In virtual call center: 
You won't be districted to a specific location, so you can widen your hiring scope and pick the best skilled talented agents. Our advice for hiring virtual call center agents is to try hiring them as part-time agents as a test before offering them a permanent position.
3. How to maintain your call center agents' performance?
Remember that your agents are your essential asset and you should bring expertise to put training programs and educate them on the different tools they will use. Recording phone calls and relisting with your agents will help them to identify what they should and shouldn't. And learn faster from their mistakes.
Step 3: choose the right call center technology that matches your need:
choose the right call center technology that matches your need.
A contact center, in its basic form,
consists of:Hardware:
this includes hardware components such as LAN (local area network), voice logging, automatic call distributor ACD, predictive dialer, and computer technology integration CTI.
Software:
that includes customer relationship management CRM that stores all your customer data and present it to your agents whenever they need it.
Telephony\ telecom network:
just like you need to register your mobile with a telecom operator, you need a telecom network to operate your contact center. Voice over IP (VOIP) technology is the most popular form of telecommunication in a contact center.
To make it easier for you when determining the call center technology we believe every contact center should have:
1. Agent desktop or laptop:
It's essential to have an up-to-date laptop or computer for each agent to deal with multiple types of software at the same time. And also for the management of operations like data storage and customer references even if everything is stored on the cloud.
2. USB Headsets:
Providing modern hearing and speaking tools to influence the best performance for comfort and calling convenience during the hours of screening calls is a top priority to your call center.
Equip your agents with individual USB headsets individually functioning listing device equipped with a microphone. . Bluetooth headsets will work fine either
You can choose from different styles and brands.
3. Data handler system:
Data handler system acts as a key software to organize and store all the multiple data of a call center in different classes. It eliminates many problems and saves you your time and money.
4. Call recording software:
You need to call recording software to allow managers and supervisors to gauge the success of operators. So it is helpful to monitor your agents during the call in real-time It supports the customer as well to listen to the call and verifying the commitments made on the call.
5. Business phone system:
Typically call center handles a large number of calls every day, so you need to invest in s dedicated business phone system. There are 3 options:
A. PBX (private branch exchange):
this system operates through physical phone lines and traditional headsets
B. IP PBX (internet protocol private exchange):
this system handles communications through VoIP which allows your agents to use phones that are routed through an internet connection instead of traditional phone lines.
C. Virtual VoIP:
it's the most popular business phone system. Every call occurs through an app on your desktop. This the perfect option for virtual call centers.
6. Predictive dialer:
It's a fundamental software needed almost by every call center. That software automatically dials multiple numbers at once, removing unproductive calls and unanswered calls. And eliminates disconnected calls with advanced detection.
7. Automatic call distributor ACD:
ACD is the type of telephony software system that works to streamline the entire call process. It answers the incoming calls and routing them to an appropriate agent according to the database.
This software can be integrated with your IVR system and offer benefits such as call monitoring, acquiring usage data, allowing departments to work as one, and providing companies with multiple waiting queues, and more.
8. CRM software
Customer relationship management software organizes and manages all the interactions your company has with customers, including phone calls, call reporting, and leads. With CRM you can manage thousands of customers with the click button.
Pro tip:
 If you're using a VOIP system, look for a CRM that integrates with it to make it easier on your agents when a customer calls he will instantly have all their data pop-up.
9. Internal communication system:
Your agent needs to be able to communicate with each other and reach out to their supervisors when they need them.
Think about investing in an intercom device that may help in-office employees
For the virtual call centers consider using instant messaging apps like Slack.
10. Workforce management tools:
To assist in managing shifts calls volume, and agents categorize
Customer service:

920013450

WhatsApp:

+966 537631266
Email:

info@al-voip.com