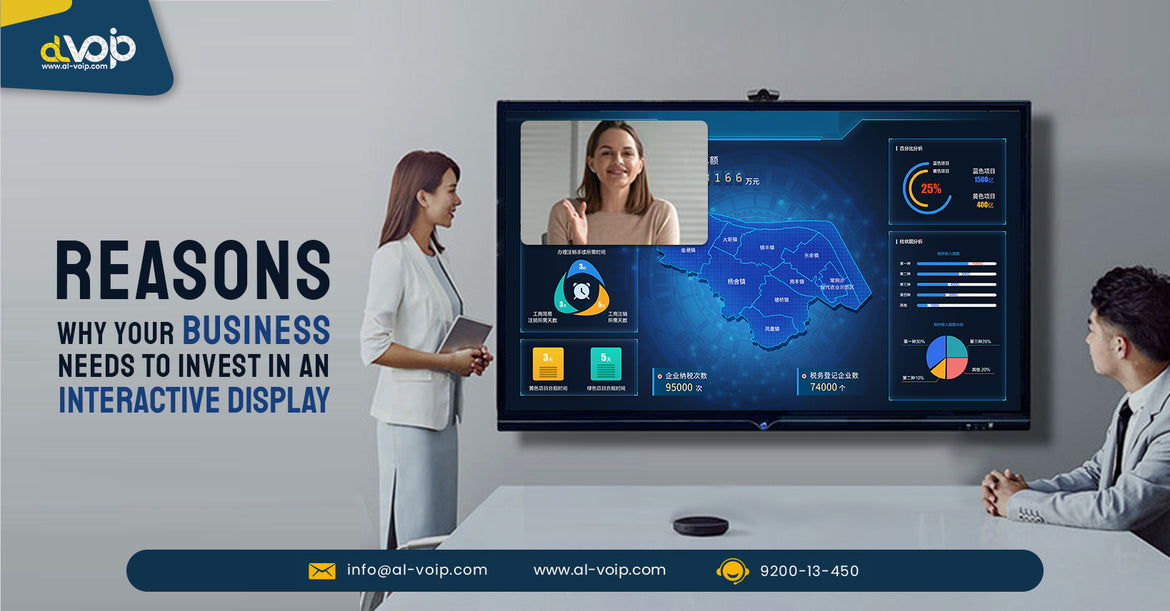 Some Reasons Why Your Business Needs to Invest in an Interactive Display
Big Data, Business Phones Systems, Business VOIP, call center, Call center Systems, case study, category, Cloud, cost, CRM, Digital Transformation, Door phone, IP Phones, ipphones, partnership, PBX, Protection, SIP, ternds, tips, trend, video, video conference solutions, video conference systems, Video Conferencing Solutions, VoIP, VoIP Phones, VPN, yealink

08 Aug, 2023
Businesses must keep ahead of the curve in today's rapid and technology-driven world to stay competitive. Buying interactive displays is one way to achieve this. Businesses may improve cooperation, engagement, communication, productivity, and image by using interactive displays.
Here are several justifications for why your company must get an interactive display:
1- Improve Collaboration: Interactive displays can be utilized in enterprises to promote collaboration. Team members can exchange and collaborate on ideas, brainstorm, and work on projects in real-time by using interactive displays. This could improve collaboration, output, and creativity.
2- Boost Engagement: Interactive displays can aid in boosting customer and employee engagement. Businesses may use interactive displays to highlight items, offer personalized suggestions, and create engaging experiences. This could contribute to a rise in client satisfaction, loyalty, and retention.
3- Communication Improvement

:

Interactive displays can help firms communicate more effectively. Businesses, for instance, can employ interactive displays to offer training and education, disseminate crucial information, and build a more open and cooperative culture. Employee engagement, retention, and general performance may all benefit from this.
4- Increased Productivity: By making information accessible and streamlining workflow, interactive displays can help businesses be more productive. Businesses can use interactive displays to show schedules, project timetables, and other crucial information, for instance. Processes can be streamlined in this way to cut down on errors and boost productivity.
5- Modern and bright image for Your Business: Interactive displays can assist organizations in developing a modern and inventive image that may be appealing to both customers and staff. Businesses may set themselves apart from their rivals and attract new clients and talent through using cutting-edge technology and offering engaging experiences.
6- Flexibility: Interactive displays have a wide range of applications and can be used in a variety of situations, including corporate, educational, healthcare, hospitality, retail, and other environments. They can therefore be used for many years and customized to meet shifting business requirements, making them a worthwhile investment.
7- Cost-Effective: Interactive displays are becoming more and more accessible to companies of all sizes owing to their reducing price and rising efficiency. Additionally, they require less maintenance and upkeep than conventional displays, which can ultimately save organizations time and money.
In general, businesses seek to improve cooperation, engagement, communication, productivity, and image should consider investing in interactive displays. Interactive displays may help organizations to stay competitive and satisfy the needs of their customers and employees according to their advanced features, user-friendly interfaces, and mobility. An interactive display can help you grow your company, whether you're a little business or a big one.