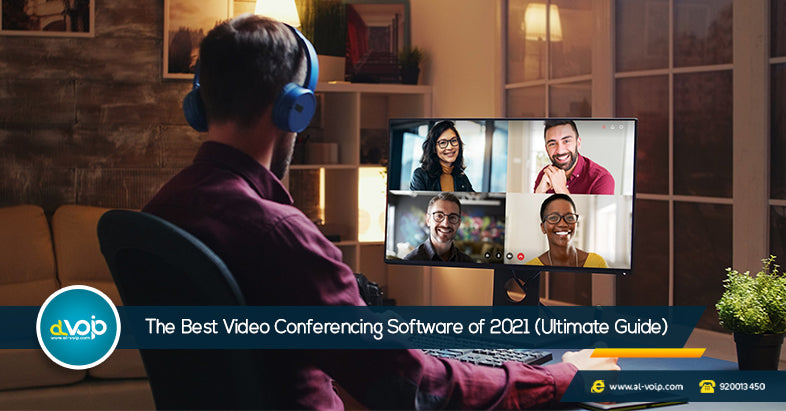 The Best Video Conferencing Software of 2021 (Ultimate Guide)
Big Data, Business Phones Systems, Business VOIP, call center, Call center Systems, case study, category, Cloud, cost, CRM, Digital Transformation, Door phone, IP Phones, ipphones, partnership, PBX, Protection, SIP, ternds, tips, trend, video, video conference solutions, video conference systems, Video Conferencing Solutions, VoIP, VoIP Phones, VPN, yealink

31 Dec, 2020
Globally, 52% of workers work from home at least once every week (Owl Labs).and 25-30% of the workforce will be working remote multiple days per week by the end of 2021 (Global workplace analytics).

The business world today relies on remote working, either to gain its advantages or have been forced to a remote lifestyle virtually due to the spread of the COVID-19 pandemic. This means an unprecedented number of businesses have switched from in-person meetings to virtual meetings to keep their day-to-day businesses going.

Fortunately, the technology of video conferencing software offers innumerable opportunities to stay connected and conduct online meetings and collaborate from separated locations. There's a massive market full of countless options of different types of video conference software.

In this article, we are going to give you a complete guide for everything you need to know about video conference software.
What is video conferencing software

?
Video conference software:

allows online communications (video meetings and seminars) with its built-in features
like

instant chatting, screen sharing, video recording, and mobile access. It aims to enhance collaboration, increase productivity, and save travel expenses.

Video conferencing platforms can be used by any employee in the organization to host or attend virtual meetings with other employees, company partners, or customers.

The latest video conferencing tools now also enable integration with CRM and marketing automation to sync business-critical data with relevant meetings.
What are the essential features you should look for in video conference software?
There is a variety option of video conference software each of them comes with a set of features.



1.Ease of use

It's the most important criteria as you should look for online meeting software that is user-friendly with a simple user interface to help employees to adapt easily to your virtual setting.
And be focused on meeting not distracted by figure out how everything works.




2.screen sharing 
This feature is essential to facilitate interactive conferences as it offers the best way to illustrate your point to other participants in the call.
For instance, if you want to show how to specific process is done, share a document that only you have access to and ensure the message is delivered clearly.




3.Text chat 

Video, voice, and text are the foundations of any video conferencing software. Many software allows you to send written messages to those who in the meeting.
It is very helpful as you can write down notes in virtual meetings, share files and links instantly, and even asking questions without interrupting the speaker.




4.Conference recording 

Being able to record your conferences is very helpful for your business as these recordings will be as a reference for your team to ensure no tasks have been dropped.
it also saves your time when someone can't make an important meeting or when hiring new employees.




5.Video and Audio quality 

A high-quality video will enhance the overall experience of your virtual meetings. Users will be able to see speakers clearly and feel a greater connection. At the same time, you want a high definition audio quality.
If the participant can't hear you, the high-quality video will be useless.




6.Mobile Apps 

Selecting a video conferencing software that has mobile apps available for both IOS and android devices is extremely important as these devices form simple collaboration tools in their hands.
Whenever and wherever they can access virtual conference meetings or dial-in to see a presentation.

The dynamic business environment requires being productive while on the go. You can host a conference with your team while in traffic, or the middle of a business trip. And video conferencing apps offer you the flexibility to do so.




7.Room systems

While joining a meeting from a mobile app is convenient and flexible, but your business needs may compel you to set up a dedicated conference room specifically for video conferencing.
Select an online meeting platform that supports the equipment (like cameras, speakers, and monitors) in your meeting room. And allow seamless content sharing with a tap of a button.




8. Number of participants 

Video conferencing software varies in the number of participations that can support. Some services limit the number of attendees to under 10, while other providers have solutions that support several thousand at one time.
so be sure to determine the software that can support the top numbers of users you'll have in a meeting at one time to save money and resources.




9.Security

Cybersecurity problems, such as stolen meeting links, data breaches, meeting bombing, and malware attacks are potential threats to Digital platforms.
Therefore invest in cloud-based video conference software to prevent any potential vulnerability.




10.Customer support

The worst situation you need to avoid is to select a videoconference service provider that doesn't respond to your urgent problems.
Be sure to call customer support in advance to evaluate if their features and performance fits your needs.




11.Apps inegration 

A video conference platform that allows integration with multiple applications, such as google calendar, outlook, and even CRM system makes scheduling video meetings simple.
What are the top 3 Video Conferencing Software Platforms for 2021?
After testing and reviewing a lot of video conferencing tools from numerous users in corporate and personal settings, we highlighted the strengths and weaknesses of each.

And here are our top picks for the best video conferencing software to use for your online meetings.
Zoom is a video conferencing service that provides many options like conference rooms, video webinars, phone systems, etc.

Zoom provides a 40-minute limit on group meetings if you're on the free plan. So you should take note of that if you will using the software for longer online meetings. If you subscribed to the highest pricing plan Zoom lets you host up to 1000 participants and display 49 videos on the screen.

Best for: Small businesses looking for a free tool with standard features on the free plan.

Zoom allows

you to (features a

nd pros):
• Engagement your audience: you can use filters, reactions, polls, video sharing, etc.
• Record your meetings in the cloud or locally, with searchable transcripts.
• Integration with some of the calendar apps like Outlook and Gmail.
• Provide a virtual background and uses the images of your choice.
• Communicate and share files with your colleagues through Zoom Chat.
• Share and play any video or audio without uploading it.
• Share your screen and co-annotate.
• Connect with external users while keeping private information safe.
• Unlimited cloud storage.
• Select the video quality for up to 720p.
• Free plan for up to 100 participants.
Pricing:
zoom offers four pricing plans here
Cisco Webex is an online video conferencing system that enables you to join meetings across desktop, mobile, or video systems. Its free plan shares the 40-minute time limit of Zoom and you get 1 GB of cloud storage and the ability to add as many as 50 participants in a single meeting.



Best for

: Companies looking for a feature-rich solution with an expansive free plan.
Cisco Webex Meetings allows you to (features and pros):

• Flexible connection to the audio through VoIP or dial-in number.
• Share your screen and whiteboard to brainstorm and collaborate virtually.
• Offers encryption TLS 1.2 support, meeting locking, and more.
• Record your meetings and provides automatically generated transcripts for each session.
• Provides customized video layouts to help you optimize your video conference screen.
• Provide blurred, virtual, or customized backgrounds to ensure that the focus is always on you.
• Integration with Outlook, Office 365, and Google calendars also help you host, join, and schedule meetings accordingly.
• Host or join a meeting from a smartphone, laptop, tablet, or any other video device.
• It offers up to 10 GB of cloud storage.
• Real-time polls
• Create your customized meeting URL.
• Customize your conference screen to align with your branding needs.
Pricing:
Cisco Webex Meetings offers five pricing plans here
Microsoft Teams is a proprietary business communication platform developed by Microsoft, as part of the Microsoft 365 family of products. Teams offering workspace chat and videoconferencing, file storage, and application integration. Teams are replacing other Microsoft-operated business messaging and collaboration platforms, including Skype for Business and Microsoft Classroom.

Best for: both small and large businesses in different categories.
 


Microsoft Teams allows you to (features and pros):
• Together Mode – to share background virtually with your team to make it feel like everyone is sitting in the same room.
• File-Sharing – It helps you co-author files with your colleagues in real-time. You can also access, share, store, and collaborate from any location.
• Customize your background or upload your personalized background.
• The "raise your hand" to interrupt politely when you need to say something in the middle of a meeting.
• Download the participant list so you can follow up with your colleagues.
• Chat with participants even after the meeting is over.
• Other features: digital whiteboarding, the ability to mute, remove uninvited attendees, make participants wait in the virtual lobby.
• Available in 53 languages and 181 markets globally.
• It provides advanced security with multi-factor authentication, encryption, and device management.
• Share and collaborate through Office 365 apps, including Excel, Word, and PowerPoint.
Pricing:
Microsoft Teams offers four pricing plans here
Should I use paid or free video conferencing software?
Most video conferencing software provides a free plan subscription with limited features so it's all about your business needs. If the features included on the free plan serve those needs sufficiently then there's no need to upgrade.  
But in case that your business operations are being held back by the locked features then you should consider upgrading beyond a free version with keeping the company budget in mind.
Before you make a move to a paid plan, be sure to consult our professional video conferencing team in "AL-VOIP"
Contact us for more information on: