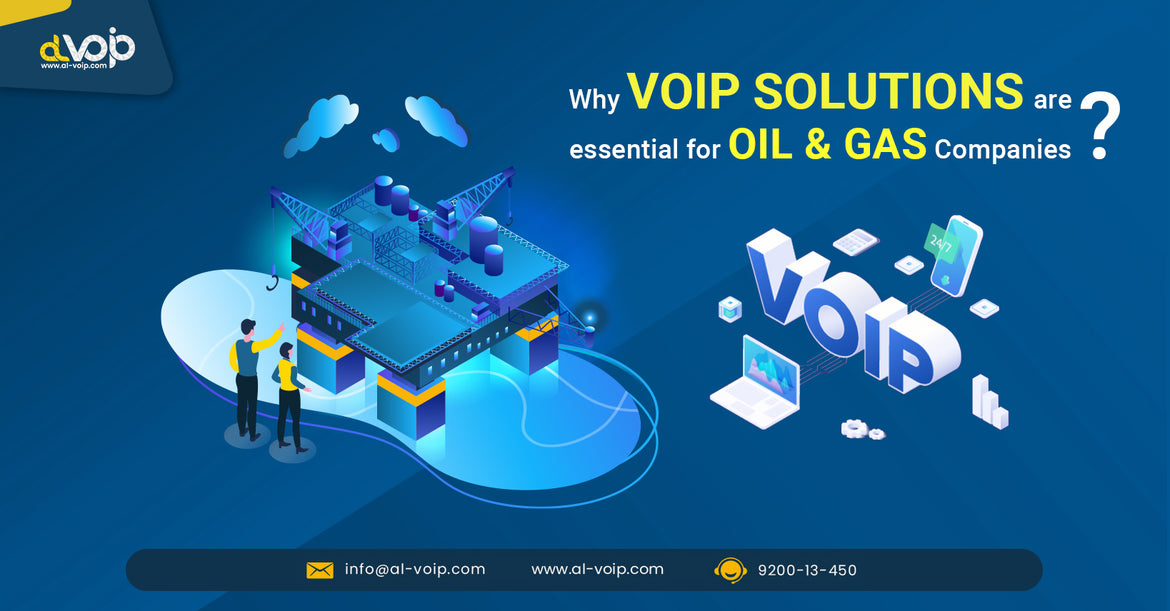 Why VoIP Solutions are essential for Oil and Gas Companies?
Big Data, Business Phones Systems, Business VOIP, call center, Call center Systems, case study, category, Cloud, cost, CRM, Digital Transformation, Door phone, IP Phones, ipphones, partnership, PBX, Protection, SIP, ternds, tips, trend, video, video conference solutions, video conference systems, Video Conferencing Solutions, VoIP, VoIP Phones, VPN, yealink

09 Nov, 2023
In the fast-paced and demanding world of the oil and gas industry, effective communication plays a crucial role in ensuring operational efficiency, safety, and productivity. Traditional communication systems often fall short in meeting the unique needs of this sector. However, the emergence of VoIP solutions has opened fresh possibilities for revolutionizing communication in the oil and gas industry. In this blog, we will explore the benefits and specific applications of VoIP solutions tailored for this dynamic industry.
The following are some of the main justifications why oil and gas industries absolutely require VoIP solutions:
Streamlined Operations and Remote Connectivity:
VoIP solutions make it possible to communicate seamlessly between geographically separated locations, which makes it easier to integrate offshore platforms, production facilities, and remote locations. VoIP systems offer dependable connectivity for a range of applications, including offshore drilling operations, pipeline monitoring, and remote site management. This guarantees real-time communication between onshore and offshore staff.

Enhanced Safety and Emergency Response:
In the oil and gas sector, safety is of utmost importance. Advanced safety features like automated alarms, location tracking, and emergency phoning are available with VoIP solutions. These elements increase overall safety standards and allow for quick response in emergency scenarios. Employees can report incidents, get rapid assistance, and get in touch with emergency services promptly, all of which help to create an efficient emergency response system.
Remote Collaboration and Multi-Site Connectivity:
Remote collaboration among geographically dispersed teams and contractors is common in the oil and gas business. VoIP systems integrate phone, video conferencing, instant messaging, file sharing, and other communication channels to enable smooth collaboration. Efficient decision-making, problem-solving, and project management are improved by real-time collaboration and information sharing among various teams and locations.

Cost Efficiency and Scalability:
VoIP solutions provide significant cost savings compared to traditional communication systems. Businesses can cut long-distance call costs and do away with the requirement for pricey dedicated lines by utilizing the current internet infrastructure. VoIP systems are also scalable, which makes it simple for businesses to increase or decrease their communication capacity as their duties and processes expand.
Mobility and Field Connectivity:
The oil and gas industry often requires personnel to work in remote field locations, so these solutions offer mobile applications that enable employees to stay connected and access communication features on smartphones, tablets, or rugged devices. Field workers can make and receive calls, join conference calls, and access critical information, enhancing productivity and reducing downtime.
Although VoIP solutions can help oil and gas firms significantly, they may also encounter major difficulties when putting them into practice. A couple of the most typical issues are listed below, along with some potential solutions:
Internet connectivity:
It is essential for VoIP solutions to function properly with reliable and powerful internet connection but due to the lack of permanent internet, Oil and gas companies may need to use satellite internet services or other connectivity alternatives to make sure their VoIP solutions function properly.
Quality of Service:
To guarantee that voice communications are crystal-clear and dependable, VoIP solutions need a high level of QoS to give voice traffic priority over other types of internet traffic.
Training and support:
Oil and gas organizations may need to offer training and assistance to staff to ensure that they are using the solutions properly to troubleshoot any potential problems.
So, Oil and gas firms have to make sure that their VoIP solutions operate efficiently and offer the communication capabilities they need to compete in today's business environment.