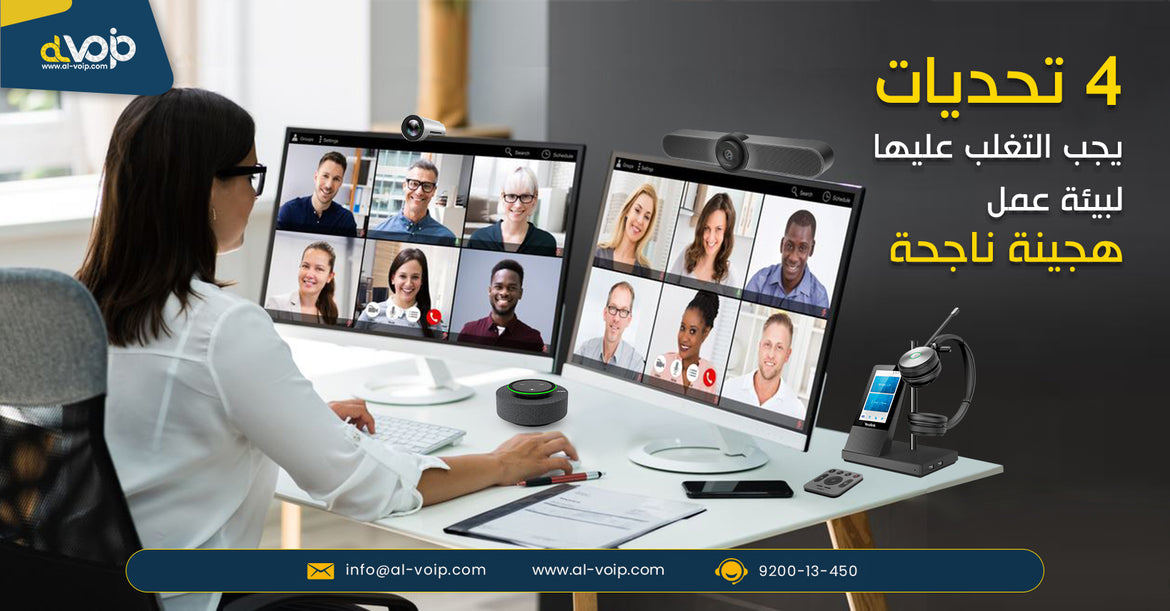 4 Challenges to overcome for a Successful Hybrid Workspace
Big Data, Business Phones Systems, Business VOIP, call center, Call center Systems, case study, category, Cloud, cost, CRM, Digital Transformation, Door phone, IP Phones, ipphones, partnership, PBX, Protection, SIP, ternds, tips, trend, video, video conference solutions, video conference systems, Video Conferencing Solutions, VoIP, VoIP Phones, VPN, yealink

20 Jan, 2022
The term "hybrid working environment" refers to a combination of remote and on-premises work. It also refers to a promise—of new work model based on the merging of physical and digital worlds.
After the pandemic, hybrid workspaces became the new normal, and every organization should be able to develop and sustain a successful hybrid workspace utilizing modern technologies. So, how is technology enabling the new hybrid workspace, and what mistakes should be avoided?
Challenge 1: Disconnection between On-site and Remote Workers
Employees who work in different locations feel disconnected from each other. As a result, the proper equipment is required to bring them together and keep them connected.
Solution: Efficient collaboration devices
Help them to stay connected with the team at all times, no matter where they are, by providing them with tools like:
Collaboration platforms such as instant chats, call recording, etc.
Challenge 2: Too Much Distraction from Noise and Human Interruptions
Working from home or even outdoors means that having a solution that reduces distraction is more crucial than ever before.
Solution: Noise Cancelling & Do Not Disturb Devices.
Make sure your staff have noise-canceling collaboration devices! There are various headsets with HD speakers and noise cancelling microphones on the market. Here are some options:
Challenge 3: Workers Shifting from Different Space and Locations
It's not easy to provide your employees the flexibility to work from anywhere, but the wireless devices listed below can help!
Solution: Wireless Solutions & Mobile Apps
Grandstream Mobile DECT Handset DP720
There are also multiple softphone apps available on the market that can help you engage workers from different spaces such as Linkus client, Avaya Space, Grand stream Wave, and more
Challenge 4: Workers are engaged with Different Platforms and Tools
Your employees are likely to be using a variety of softphones and collaboration tools. Engage them with devices that are compatible!
Solution: Video conferencing solutions that compatible with different platforms
Choose video conferencing solutions that can be used on a variety of devices. The following are some examples:
If you are ready to Hybrid Workspaces, contact us for the best collaboration solution for your business.
Contact us for more information on:
Customer service: 920013450
WhatsApp: +966 537631266
Email: info@al-voip.com