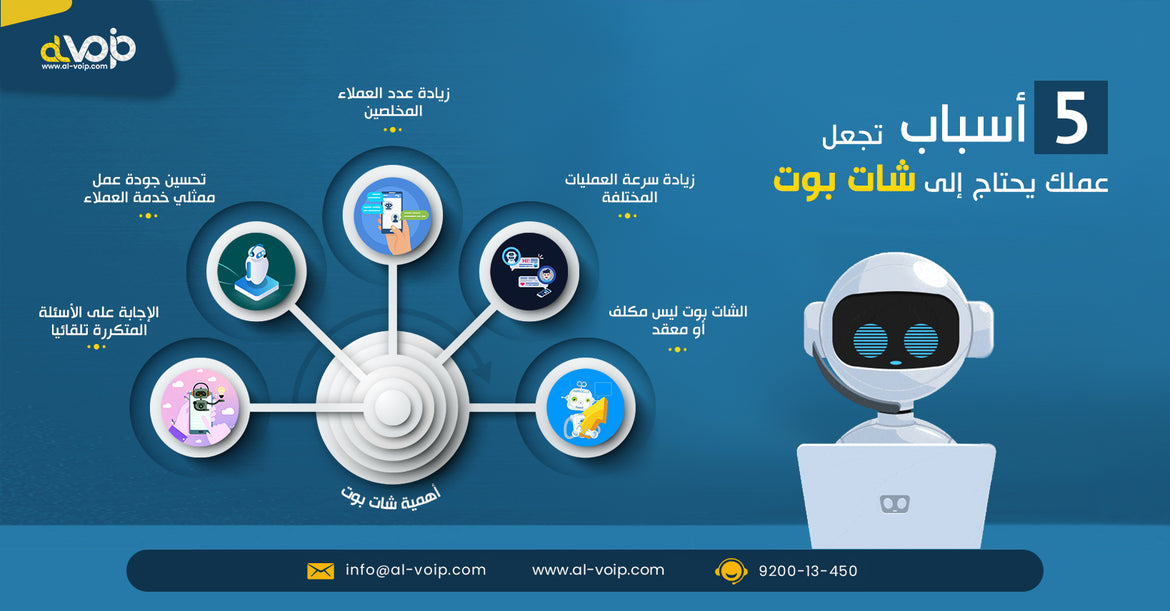 5 reasons why your business needs a chatbot
Big Data, Business Phones Systems, Business VOIP, call center, Call center Systems, case study, category, Cloud, cost, CRM, Digital Transformation, Door phone, IP Phones, ipphones, partnership, PBX, Protection, SIP, ternds, tips, trend, video, video conference solutions, video conference systems, Video Conferencing Solutions, VoIP, VoIP Phones, VPN, yealink

24 Nov, 2019
Technology development nowadays makes every business want to catch up with every trend. But with many trends and updates, maybe not every new thing is for everyone. One of the latest trends that made great results for many companies was the chatbots, which are artificial intelligence powered virtual agents that rely to customers automatically.

Chatbots have been tremendously developed recently with advanced abilities in gathering data automatically from databases to keep updated while using machine learning to learn more about satisfying patients and answering their questions.
So with the great features and the saved costs, are chatbots worth it for your business?
Here are the benefits they bring you so that you can decide for yourself.
1.Answering the repetitive queries
If your industry isn't complicated enough to have new questions everyday, then chatbots are certainly perfect for you.
And for any type of industry, there are repetitive questions where the same answers are asked, and a chatbot can do the job of answering those same questions even faster than the real agent would.
So for basic questions, chatbots are definitely the best whatever the niche of the business is.
2.Improving the quality of agents' work
A chatbot doesn't get tired or bored, so it can be perfect to make it responsible for taking some work off employees or even decreasing the number of the employees with some of your customers questions automatically answered by chatbots.

Chatbots are also a perfect choice even for temporary assistance when customer service agents aren't available if you are not operating all days or round the day.
3.Increasing loyal customers
People like new technologies, and if you use a chatbot in the right way, they can be impressed with the idea of you using the latest technologies itself.
This can lead to more customers becoming loyal to your business. Also, the earlier you do it, the more likely you are to benefit from its advantages as an early adopter of a new successful technology.
4.Improving the speed of operations
The quality of the chatbot is always the concern, as it is compared to humans and their ability to understand customers. But when it comes to speed, chatbots are definitely the best.
Replying to customers more quickly and hearing from them as soon as they contact you can have a very positive effect on your operations as they can become more accelerated and efficient.
5.They aren't expensive or complicated
A number of companies are offering chatbot services at good prices, so giving the thing a try isn't expensive at all.
Also, like the chatbots are easy to use for customers, they are also easy for you to implement and setup, with many ready to use ones available for customizations and integration.

Al-VoIP brings you the latest tips in the world of business communication systems. If you have any questions or want to learn more about our solutions, never hesitate to reach us.
Contact us for more information on: