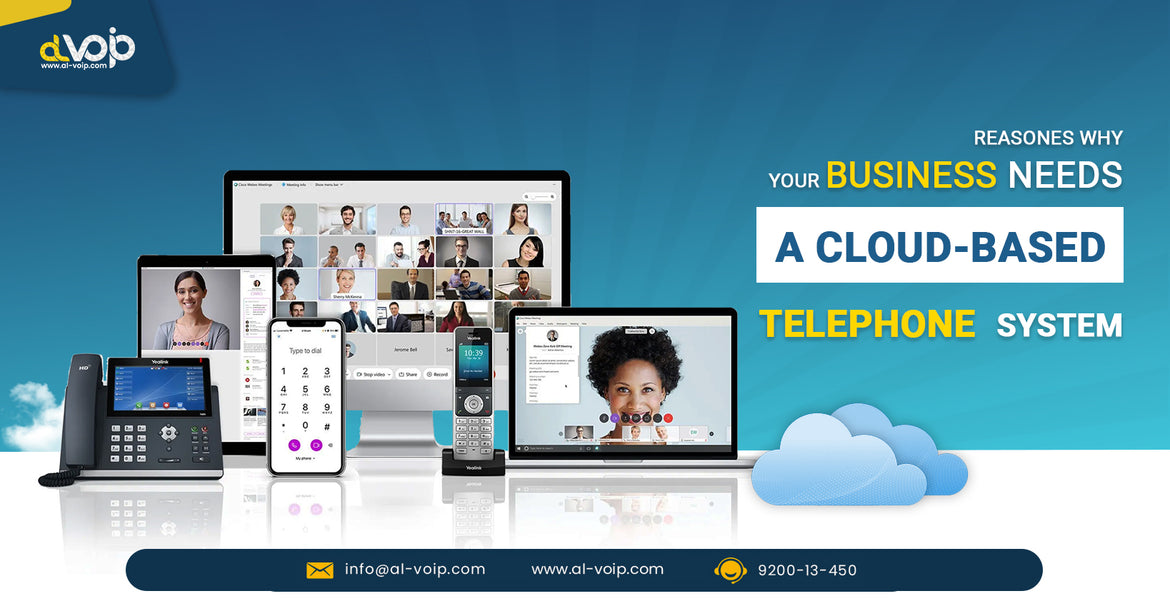 5 reasons why your business needs a cloud-based telephone system
Big Data, Business Phones Systems, Business VOIP, call center, Call center Systems, case study, category, Cloud, cost, CRM, Digital Transformation, Door phone, IP Phones, ipphones, partnership, PBX, Protection, SIP, ternds, tips, trend, video, video conference solutions, video conference systems, Video Conferencing Solutions, VoIP, VoIP Phones, VPN, yealink

26 Sep, 2022
Having your phone system in the cloud makes managing your system very easy and it's not one specific business that benefits. All types, whether in finance, SMB/SME or government can take advantage.
Here are 5 reasons why your business needs a cloud-based telephone system:
It does not necessitate the use of an IT team:
When you use a cloud-based phone system, you can get rid of your on-premise infrastructure. This implies you won't need an entire IT department to keep your phone lines up to date. There is no need for you to hire technical contractors to monitor your system because the provider will take care of everything, from hosting to maintenance.
It is transportable:
Allow you to use your phone system from anywhere as long as you have access to the internet. This is especially important for small and medium businesses with teams all over the globe. Regardless of your location, you can update your user settings for voicemail messages and check your company's call activity.
It is cost-effective:
Smaller businesses strive to decrease their operating costs as much as possible. Traditional telephone typically requires an initial investment as well as ongoing maintenance charges, as well as a lock-in term. Hosted VoIP solutions, on the other hand, allow you to pay as you go for the service, based on a subscription per user. Furthermore, because it is hosted in the cloud, you will save money on maintenance and upgrades because there is no physical hardware to maintain.
It's simple to expand:
One of the biggest advantages of cloud-based phone systems is that they can quickly scale up as your business grows. With just a few clicks, you may add extensions or direct numbers.
It offers small businesses an advantage:
Cloud-based telephony is easy to use and affordable. It enables small firms to produce higher-quality and faster results than those that use traditional systems. Employees spend less time monitoring their phones and more time on tasks that bring value.
Small businesses may focus on generating sales and satisfying consumers with a cloud-based phone system. There's no need to spend a lot of time learning the ropes with a cloud-based phone system because it's simple and effective. It also doesn't take a lot of time and effort to keep it up to date. Small businesses will benefit from cloud telephony because it provides more flexibility, control, and a cheaper overall cost of operation.
Cloud PBX, is a great solution for the times we are living now, of remote working, UC collaboration, because the security is managed by the cloud provider not by the headquarters of your company or your own IT offices, not exposing the old PBX to the open internet, no need of costly VPN services. All these IT costs, all the hardware necessary, is replaced by a variable pay for what you need cloud service.