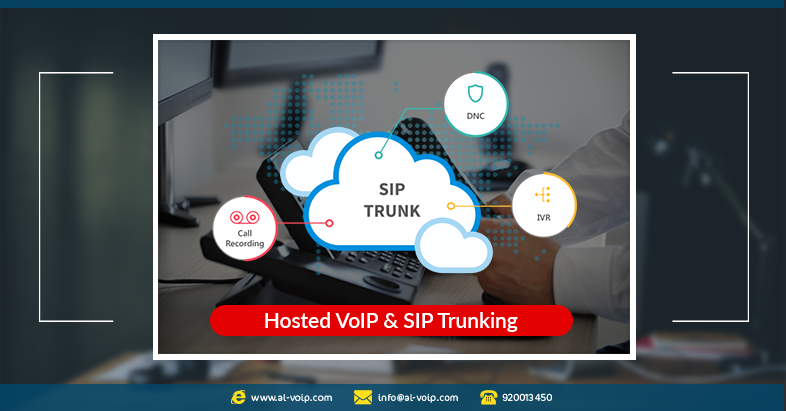 Hosted VoIP vs In-house VoIP.. how to choose?
Big Data, Business Phones Systems, Business VOIP, call center, Call center Systems, case study, category, Cloud, cost, CRM, Digital Transformation, Door phone, IP Phones, ipphones, partnership, PBX, Protection, SIP, ternds, tips, trend, video, video conference solutions, video conference systems, Video Conferencing Solutions, VoIP, VoIP Phones, VPN, yealink

05 May, 2019
Businesses that are implementing any VoIP services are usually having two options. The first option is called SIP trunking and the second option is called hosted VoIP. And like any other thing, both options has their cons and pros, so how can you decide what to choose from them? And is hosted VoIP the thing for you?
Hosted VoIP and SIP trunking
The greatest and most important advantage of hosted VoIP is that it doesn't need experts so if that catches your interest then you need to know the rest. The hosted VoIP doesn't need technicians to set up the phones or manage the calls or update the system and keep it maintained.
This could be a very valuable benefit for some, especially startups, small and medium sized businesses wanting to cut down the costs and the time wastes of IT technicians for problem troubleshooting.
You may have already assumed that every VoIP service may need IT technicians and troubleshooting like anything else that works over the internet, so let's take a look on how that is not true with hosted VoIP.
The setting of your system
Setting a VoIP service for your home is very simple. You just sign up for the service with one of its providers and it is done and you can make phone calls through the Internet. These services offer many features with no need of an expert.
For a business whatever its size is the whole thing become more complicated. The features that are needed like IVR systems, ACD queues and auto attendant feature among many others are behind the more complex systems.
For setting up this system you will need experts to tell you what you really need and evaluate the hardware you are going to buy before taking purchasing decisions.
All of this happens if you choose SIP trunking. But if you choose hosted VoIP you will need no experts, you will just need signing up for an new account and you can get started with making calls over the internet. One more advantage is that the service provider offer free trials for limited time to give you a chance to decide and test the system.
And since the services of the hosted VoIP and its features are all serviced through the internet, you will need no specific hardware to get started. The service works with accounts for users with control given to owner, managers and administrators over the settings.
Contact us for more information on:
Customer service: 920013450
WhatsApp: +966 546808213
Email: info@al-voip.com