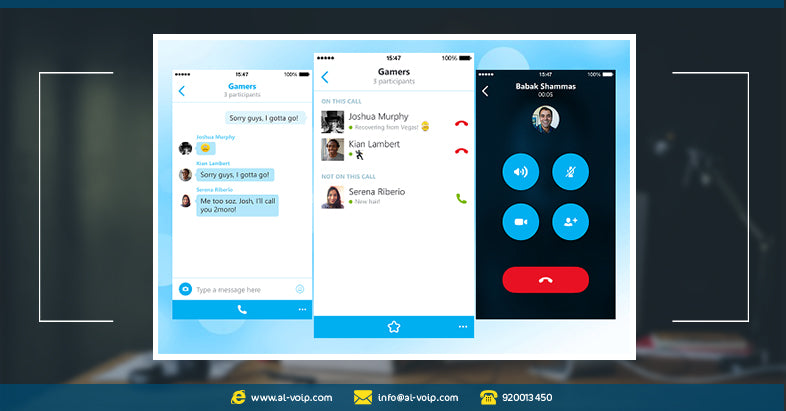 How Native Skype for Business Calling on the iPhone Challenges Mobile VoIP
Big Data, Business Phones Systems, Business VOIP, call center, Call center Systems, case study, category, Cloud, cost, CRM, Digital Transformation, Door phone, IP Phones, ipphones, partnership, PBX, Protection, SIP, ternds, tips, trend, video, video conference solutions, video conference systems, Video Conferencing Solutions, VoIP, VoIP Phones, VPN, yealink

31 Aug, 2018
Native Skype for Business calling on iOS could rightfully challenge the rest of the mobile voice over IP (VoIP) market. Starting with the fact that Microsoft is showing its iOS app development chops with its Microsoft Office and SharePoint apps, that good work and user experience (UX) are finding their way into the Skype for Business app.
Improved UX

The Skype for Business iOS app sports a new look and feel from previous versions. Top of this list is an at-a-glance view of your upcoming meetings and conversation history, easy call control, and other improvements.
Multiple Communications Channels
If your mobile users can access Skype for Business Server 2015, they gain the ability to communicate with their Skype contacts by using:
Instant messaging;

Audio call; or

Video call.
New and Improved Dashboard
The new Skype for Business app includes a dashboard that serves up all your call information at a glance throughout your workday. It gives you:
Contact search of your global address book and local contact lists;

A view of upcoming appointments and meetings; and

Recent conversations, showing the history of your recent chats, phone calls, and meetings.
Improved Caller Experience
The Skype for Business app is further testimony to the fact Microsoft has the iOS app development game down when it comes to UX. The new app includes larger buttons, full-screen video, and multiple views for calls and meetings. This new experience gives you improved control over meeting actions, especially call management (muting and adding participants).
The Skype conversation history now syncs with Microsoft Exchange Server. That's right: Conversations that occur on your Skype for Business mobile device appear in that device's conversation history and back on your Skype for Business PC application.
Better Wi-Fi Calling Options

The iPhone is becoming the single phone for road warriors and remote workers, and the Skype for Business app includes a Require Wi-Fi option for voice, video, and meeting content. If a Wi Fi connection isn't available for your call, Skype for Business attempts the call using your mobile number. Answering an incoming call from Skype for Business uses your mobile minutes.

Apple CallKit Support Ups the Challenge

The iOS 10 operating system includes Apple CallKit, a set of application programming interfaces for third-party developers, which enables the new Skype for Business iOS app to access the native iPhone dialer. 

Such tight integration enables features like a full-screen announcement when you get a VoIP call on your iPhone, just like you do with a cellular call. The integration also enables you to handle a VoIP call like a personal call, including dropping the first call and picking up the second call. You also have the option to put the first call on hold and answer the second, then either conference the calls or toggle between them.

The integration also enables other iPhone functions with Skype for Business, including storing and returning calls from the recent calls list, using Siri to place calls, and even blocking Skype callers in the blocked contacts list.

As an early adopter of Apple CallKit, Microsoft puts the Skype for Business iOS app into a new class of mobile VoIP because of the tight integration between the app and iOS.
To get a closer look at our Skype for Business products, click here:
We are here for you, contact us here: 
Customer service: 920013450
Email: info@al-voip.com