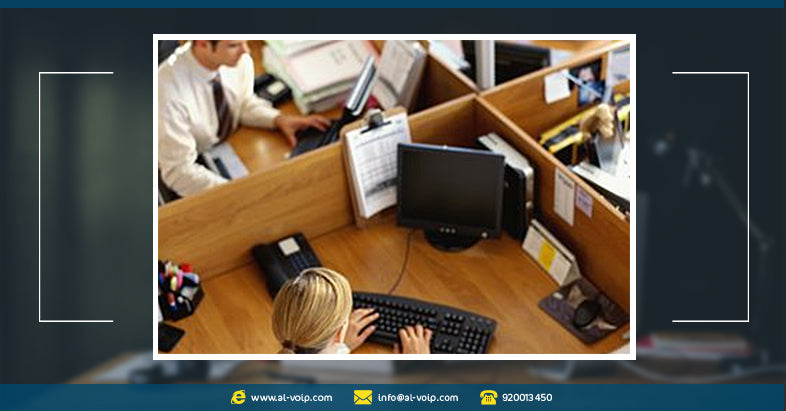 How to Setup IP PBX for Your Office?
Big Data, Business Phones Systems, Business VOIP, call center, Call center Systems, case study, category, Cloud, cost, CRM, Digital Transformation, Door phone, IP Phones, ipphones, partnership, PBX, Protection, SIP, ternds, tips, trend, video, video conference solutions, video conference systems, Video Conferencing Solutions, VoIP, VoIP Phones, VPN, yealink

30 Aug, 2018
VoIP phone service providers are the new revolution; they have added advanced features to the industry that were only available via PBX hardware, these features are some of the reasons why VoIP spread like wildfire. Long gone are the days of waiting for a technician to program your phone panel. In this article, we will take you on an elaborate journey to VoIP, dissecting the insides, outsides and in-betweens so that you get the full picture before setting it up for your ambitious office.
What Is VoIP?
VoIP = Voice Over Internet Protocol, which means that your phone calls get routed over the internet instead of the traditional phone lines which makes the former cost less, and with a fast internet connection, the calls are just as clear as hard-wired lines. Like earth rotates around the sun, your calls rotate around the internet globe just to save you a good amount of money and make your business flourish.
Why Should You Get VoIP Phone Service?
1-Flexible Setup

VoIP phone services are flexible; they allow you anywhere-login, be it from your laptop or smartphone app and consequently instant management of all features. It's a long distance relationship based on trust and mutual benefits. VoIP is your gateway to managing all the specifics of your calls and forwarding them directly to your phone if you're traveling or enjoying
a weekend.
2-Mobility

Did you ever wish that you could be both at the office and an outside meeting simultaneously? Your wish is now a reality and without needing a doppelganger either because VoIP services make you feel like you're in the office by extending your phone system to wherever you are! If you're a sales person and want to make an office call, VoIP makes it appear from your office phone number. VoIP service providers are a gem for the hearing impaired; it converts your voicemail to text that you can easily get on your smartphone.
3-Affordability

VoIP telephone systems are affordable in the sense that their maintenance and setting up costs are dramatically less than traditional telephone systems.
4-Third-Party Integrations

VoIP system can be easily integrated with CRM software or any third party applications.
Six Questions You Should Answer Before Setting Up Your VoIP System
How Many Employees Do You Have/Plan on Having? 
Before you get a VoIP, you need to have a carefully assessed plan and one of  the first things on that plan is the number of your employees in order to determine how many lines you need and the capacity of your internet connection in relation to that number. The goal here is maximum efficiency and productivity, efficiency in saving your hard earned money and productivity in providing your team with what makes their work easier and accessible, and VoIP achieves that formula.
How Fast Is Your Internet Connection?
No one likes dropped calls or low-quality phone calls when you keep repeating "Hello" thirty times in a row, they only reflect bad on your company and employees; you want to face your clients confidentiality and assuredly. Therefore, checking out the capacity and speed of your connection before getting VoIP will save your face and save you from trouble of spending money then falling out of a call with an important client, it will also puts you in an advantageous place of knowledge that prevents you from realizing that your internet connection is insufficient and go through the long process of either upgrading or cancelling your current subscription.
There are free VoIP speed tests, use one and make note of your results. VoIP prevents you from the VOID of making an un-impressive first impression.
What Do You Need?
What do you want- What do you need- and what you can live without; these are the three pillars of the pre-buying process, it's a process of elimination of extras. All savvy businessmen focus on what they need and exclude the rest. When it comes to VoIP, there are many different features like unique phone numbers for each employee, an autocall router and conference calls. 
That's when you need to ask what do you need? And what can you live without? Focus only on the features that add value to your business and employees and are quintessential to you.
What's Your Budget?
When getting a VoIP, it's important to stay focused on only the features you need. Like a kid in a candy shop, you might get carried away when you notice the numbers of add-ons, but you should know better. Setting a rigid budget prevents that from happening, you only need to get what your business needs and you have two choices of payment, you could pay monthly with ranges from $30 up to $60 or our recommendation is the annual payment that saves an enormous amount of money in your pocket
What's the Perfect VoIP Phone Service for You?
If you answered all the questions above, you would by now have a draft plan for your exact needs and now the drums are rolling and you need to get down to actual business of choosing a provider; which one should you choose?
Buying is essentially a process of comparing; you need to compare providers to find out "The One" for you. The One is the provider that combines all the features you assessed that you need, and for that you need to have them written down in a form of a check-list and keep your budget right where you can see so you don't lose sight of the main goal. Make sure that your provider has top-notch customer service, and don't just count on the official websites, read online reviews from real people to get the genuine feedback. VoIP services can be used with an adapter plugged to the analog phone, tablet, computer, or mobile or you can buy a VoIP phone.
How Do You Setup your VoIP system?
Whether you're a tech-savvy or not, handling the setup of your VoIP system is a breeze. There are in depth tutorials provided by all services  to guide you through the entire process, or just plug your smartphone to the Ethernet, configure the settings on your mobile and voila!
The secret in setting up a VoIP phone service is preparation, preparation, preparation. Buying any long term service is like marriage, you need not rush, take your time to meticulously assess your business needs and go through the process of buying as slow as possible to align with each provider before committing for a long time.
With highly trained and certified technical VOIP engineers, professional and sales team,
 

al-voip.com

 

is ready to provide you with the latest IP-PBX solutions that best fit your needs.



openvox-ip-phone-c200
yeastar-voip-pbx-s20
openvox-ip-pbx-uc300-a14em2
openvox-voip-gsm-gateway-wgw1002g
openvox-ip-pbx-uc120-series
sangoma-voip-phone-s500