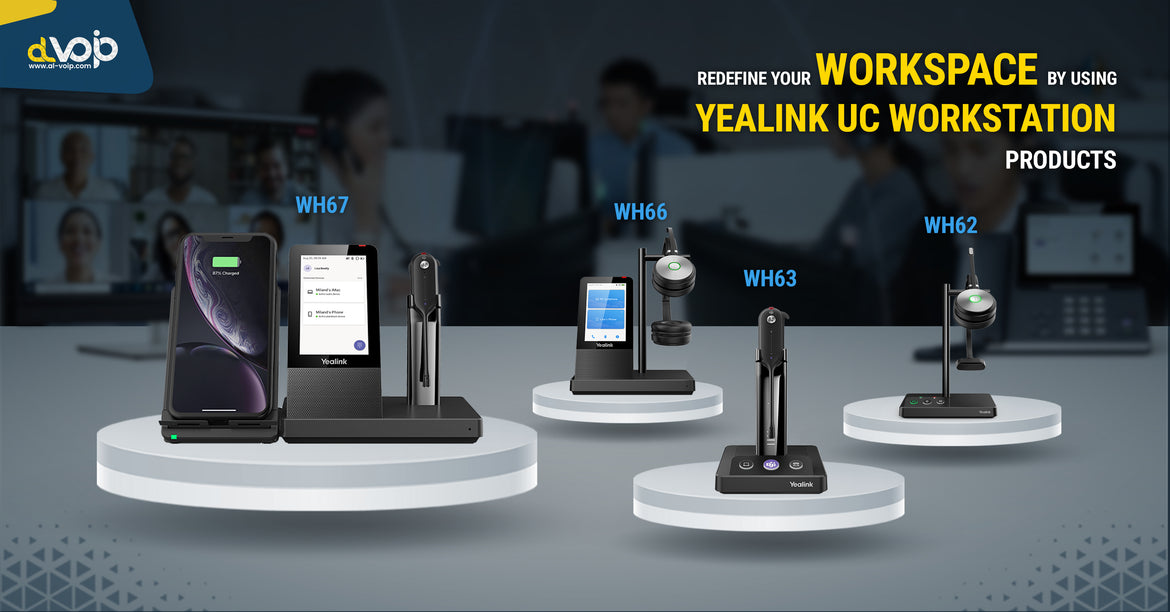 How Yealink WH6X UC Workstation will redefine your workspace?
Big Data, Business Phones Systems, Business VOIP, call center, Call center Systems, case study, category, Cloud, cost, CRM, Digital Transformation, Door phone, IP Phones, ipphones, partnership, PBX, Protection, SIP, ternds, tips, trend, video, video conference solutions, video conference systems, Video Conferencing Solutions, VoIP, VoIP Phones, VPN, yealink

19 Dec, 2021
Computers, headphones, mobile phones, speakerphones, USB Hubs, charging cords, and cables for all types of equipment are common on most people's desks, resulting in mess and ineffective work.
Yealink intends to change your workspace by merging these devices, providing you the flexibility to connect and control communication from a single device, based on over 20 years of expertise in communication and collaboration.
Yealink's Headset Family
On January 18th, Yealink unveiled the new DECT Wireless Headset – WH6X Series, which features four new generation headsets (WH62/ WH63/ WH66/ WH67) that combine a very compact design with a rich voice communication capability. They're for everyone who works in a private or shared workspace.
Essential DECT Wireless Headsets for Boosting Workplace Productivity
At work, do you frequently get interrupted? There will be no more interruptions with the Yealink DECT Wireless Headsets, with the Essential DECT Wireless Headsets WH62 & WH63 from Yealink especially when using the Yealink-branded Busy-light, which provides a visual  indicator that helps to decrease distractions and eliminate interruptions . It's also possible to walk around the workplace without missing calls, thanks to Yealink's DECT technology, which has a range of 160 meters and a talk time of 14 hours.
Premium WH6 Series for intelligent, flexible, and seamless business communications
Need to work on a range of devices from PCs, mobile phones, to desk phones? The Yealink premium DECT Wireless Headsets WH66 & WH67 X UC Workstation give users the possibility and flexibility to connect devices, and manage communications from a single device, and also act as a hub that integrate a full-duplex speakerphone, fast charging wireless mobile phone dock, 4 inch touch console, and high speed USB hubs which, together offer incredible set of features allowing you to meet, connect and collaborate seamlessly and intelligently
Yealink WH6 Series Featuring
Yealink's Acoustic Shield Technology with dual microphones for noise cancellation and speech transmission.
Dual USB connection to PC and Phone
Call reminder ringer
All-in-one design combining a full-duplex speakerphone, USB hub, wireless charging stand (Optional) and a 4-inch console with built-in Bluetooth allows you to connect, manage and control devices and calls.
The Yealink WH6 Workstation is a proof of Yealink's innovation. It is suitable for individuals that multitask often, operate in a dynamic environment, or require continual mobility.
You can find all Yealink innovative products in AL-VoIP Center.
Customer service:
920013450
WhatsApp:
+966 537631266
Email:
info@al-voip.com