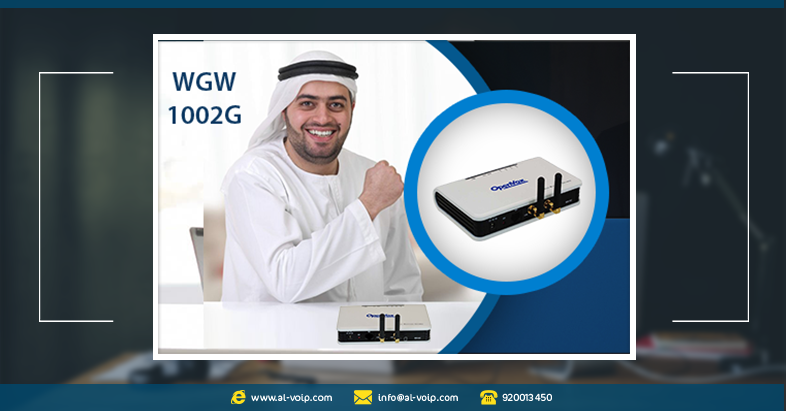 Openvox WGW1002G GSM VoIP Gateway_ Overview, Features and Where to Buy
Big Data, Business Phones Systems, Business VOIP, call center, Call center Systems, case study, category, Cloud, cost, CRM, Digital Transformation, Door phone, IP Phones, ipphones, partnership, PBX, Protection, SIP, ternds, tips, trend, video, video conference solutions, video conference systems, Video Conferencing Solutions, VoIP, VoIP Phones, VPN, yealink

13 Oct, 2019
Openvox's WGW-1002G gateway is a perfect solution for medium and small businesses with the support of 2 SIM cards using hot swap and many other features that make it one of the best available choices.


Overview of WGW-1002G
The WGW-1002G GSM gateway can help many customers with its line of features including its support of many codecs and protocols, and addition to its 2 port GSM interface. The wide support of codecs and protocols enable reducing the expenses and saving costs compared to other products.
The device also comes in a small design that has no complications, so with saving costs for small and medium businesses, the compact device also saves space.

Features of WGW-1002G GSM Gateway

The device comes with a range of features that make it perfect for many businesses including:
Simple and convenient configuration via Web GUI
Support of http / https / SSH
Basic security strategy(white/black list, security rules)
Optional GSM Voice Codec
Codecs support: G.711A, G.711U, G.729, G.723.1, G.722, G.726, GSM
Quad-Band GSM 850/900/1800/1900 MHz & Band binding
SIP(RFC3261) compliance
Support diverse SIP, IAX2 protocols
Multipe SIP/IAX2 registration models: None,server, client
DTMF Signaling support: RFC2833, Inband, SIPINFO
Real Open API Protocol (based on Asterisk)
Support static IP and DHCP
Call Duration Limit
CLIR(Call Line Identification Restriction)
Call Waiting
Call Forwarding (unconditional, no reply, busy, not reachable)
SMSC/SMS/USSD
SMS bulk transceiver, SMS automatically resend, Sent to Email
Support HTTP SMS interface
SMS Forwarding
USSD transceiver
SMS remotely controlling gateway
IMEI number automatically modify
PIN identification
Mobile number portability (MNP)
Flexible routing settings & unlimited routing rules
Support DISA
Extensible Automatic Callback and Speed Dial
Customizable IVR
CDR(More than 200,000 Lines CDRs Storage Locally)
Support configuration files backup and upload
Support for custom scripts, dial plans
Least Cost Routing(LCR),according to Time, Port, Calling Number
Independent System for Each Module
Affordable Price with Superior Performance
Hot-swap Design for both Sim cards and Modules
Compatible with sip server, such as: Asterisk, Elastix, 3CX, FreeSWITCH, etc
What is Openvox?
Openvox communications is a global communication industry leader founded in 2002. The company offers VoIP gateways, IP PBX among other communication products that serve small, medium and large businesses with superior quality more flexibility, up to date technology and lower costs.
Openvox has established a USA branch in 2013 to boost its financial strength and global market expansion. The California branch has opened many opportunities and supported better services and shipping for specific regions.
Where to buy WGW-1002G?
Al-VoIP offers communication equipment at the best prices. You can buy Openvox WGW-1002G GSM gateway at the best price from Al-VoIP with its warranty and with excellent after purchase support. Have any questions? Just contact us.
Customer service: 
920013450
WhatsApp: 
+966 546808213
Email: 
info@al-voip.com