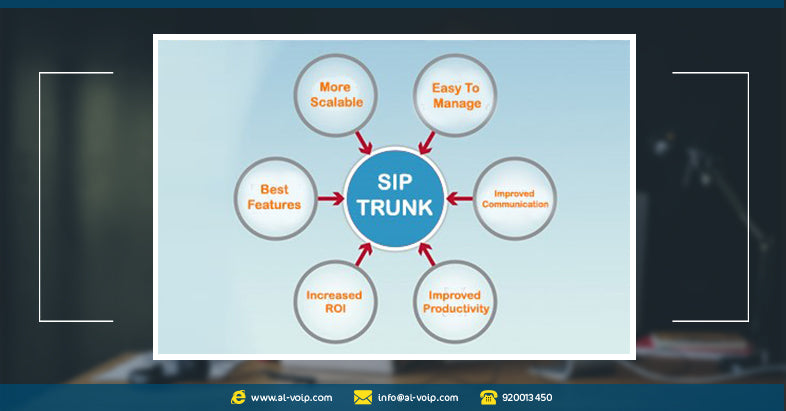 Why is SIP Trunking So Popular?
Big Data, Business Phones Systems, Business VOIP, call center, Call center Systems, case study, category, Cloud, cost, CRM, Digital Transformation, Door phone, IP Phones, ipphones, partnership, PBX, Protection, SIP, ternds, tips, trend, video, video conference solutions, video conference systems, Video Conferencing Solutions, VoIP, VoIP Phones, VPN, yealink

31 Aug, 2018
IP PBX solutions are invading businesses; the PBX is a SIP Trunking based solution that establishes a fast communication channel, this channel handles voice and video calling by connecting business phone system to the internet using Session Initiation Protocol for providing advanced communication mechanism which in turn delivers a finer quality and reliable communication system.
That's why we have listed five reasons why IP PBX are indispensable to your business:
Manageability 
Compared to the traditional communication systems, this solution is a breeze; in terms of manageability, it uses almost no hardware completely reliable on a click- and- continue system that helps you add or delete a new extension or telephony line that makes it ten times easier for you when/if you decide to upgrade. 
Expandability 
Scaling up is always a challenge, but not anymore with this business phone system using the SIP Trunking mechanism; it makes it a walk in the park. This software-based requires zero wiring and also optimizes your existing telephony system which makes it easier for you to add or remove telecommunication extensions and locations.
Satisfaction
PBX meets all your communication needs, in addition to the traditional features, it offers advancement; developed features like video conference, screen sharing, call forwarding and many other features that create satisfaction in both the caller and listener according to the survey statistics, 96% of decision-makers have reported complete satisfaction with the communication quality.
Increased ROI
What's your return over investment?
Give this question some thought, private branch solutions, due to their ability to operate wireless and hardwareless, are directly related to an ROI increase.
SIP-based communication eliminates vendor lock-in which allows you to choose the vendor of your liking which also pushes back your ROI game.  
Productivity Increase
Imagine your IT staff with zero distraction. Yes, exactly, seems far-fetched now, but with the IP PBX solution, your telecommunication network is more stable which helps your staff focus on what really matters by saving the unnecessary time of switching telecommunication hoops. Your IT staff can focus on other important tasks. This solution is software-based, therefore, you can say goodbye to tiresome wiring and hardware; it's everything your company needs. 
 To know more about our SIP Trunking products, click here:
To contact us, you will always find us here: 
Customer service: 920013450
Email: info@al-voip.com