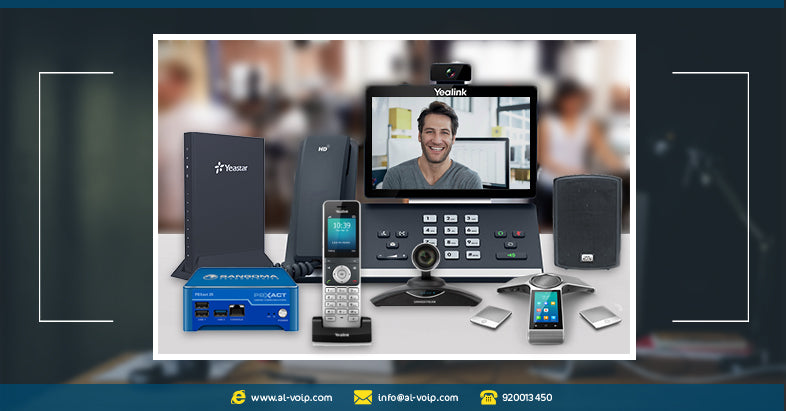 Why Do You Need to Switch to VoIP Now?
Big Data, Business Phones Systems, Business VOIP, call center, Call center Systems, case study, category, Cloud, cost, CRM, Digital Transformation, Door phone, IP Phones, ipphones, partnership, PBX, Protection, SIP, ternds, tips, trend, video, video conference solutions, video conference systems, Video Conferencing Solutions, VoIP, VoIP Phones, VPN, yealink

30 Aug, 2018
Why should you switch to a Voice over Internet Protocol (VoIP) phone system? There are a number of reasons why switching to VoIP is the best choice for your business communication system. Here are some of the top reasons to switch:
1.    Less Expensive Phone Service. Low monthly per-user rates and no contract options.
2.    Affordable Long Distance and International Calling. Get low per-minute calling, even for international calls.
3.    Free Calling Features. All providers offer included calling features with their plans.
4.    Convenience. A majority of VoIP providers offer plug-and-play install and are easy to use.
5.    Mobility. Use call forwarding, find me/follow me, or a mobile app to stay connected.
1. Affordable Phone Service
By dropping traditional phone service and switching to VoIP, consumers typically save a significant amount of money on their monthly phone service. According to a recent survey by Consumer Reports, people who have purchased a VoIP service are reportedly saving around $50 each month on their phone bill.
2. Affordable Long Distance and International Calling
A majority of VoIP providers offer either international calling plans or low per-minute international rates. VoIP service providers like ITP offer a Global Plan, which comes with unlimited local and long-distance calls to the United States and Canada, in addition to calling to 70 countries, for a low monthly rate of $24.99. Jive, on the other hand, offers a select number of countries that you can call for only $0.03/min. Furthermore, most VoIP providers also offer free on-network calling, making long distance and international calling even cheaper.
3. Free Calling Features
VoIP users enjoy a variety of free calling features, which would normally incur an extra change with a traditional phone service. Free features can include voicemail , caller ID , conference calling , call waiting , call forwarding and many others. VoIP users can have their voicemail messages e-mailed to them for easy playback and referencing; with some providers, users can click to call contacts directly from Outlook. Furthermore, consumers can obtain extra numbers (also known as virtual numbers) so out-of-town friends and family members can dial a local number to reach the VoIP user easily and affordably. If you place long distance calls frequently, obtaining a virtual number can help you save big on your monthly phone bill.
4. Convenience
What many VoIP users enjoy most about their phone service is the convenience. With VoIP, people can make and receive phone calls in much the same way they did with traditional phone service, making the transition to a VoIP phone service entirely seamless. Even better, with a VoIP phone service consumers can track their call activity, manage voicemail, view billing information, and change account information online and at their convenience via their admin portal . Additionally, most VoIP providers offer their customers numerous ways to contact them, ensuring that you will always have support for your phone system.
5. Mobility
Most VoIP providers allow users to take their VoIP service with them anywhere in the world. With high-speed Internet and a VoIP phone adapter, callers can place and accept VoIP calls from any location, at any time, for no additional charge. This feature is often referred to as "Work from Anywhere". In addition, certain providers offer smartphone apps for both iOS and Android, allowing their consumers to take full advantage of their VoIP features on the go.