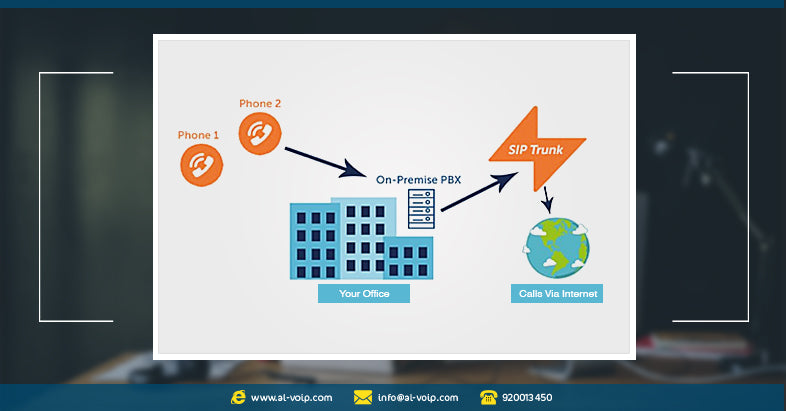 What is SIP turnking?
Big Data, Business Phones Systems, Business VOIP, call center, Call center Systems, case study, category, Cloud, cost, CRM, Digital Transformation, Door phone, IP Phones, ipphones, partnership, PBX, Protection, SIP, ternds, tips, trend, video, video conference solutions, video conference systems, Video Conferencing Solutions, VoIP, VoIP Phones, VPN, yealink

15 Jan, 2019
SIP Trunking is a route of communication that replaces the old cables of PTSN with IP. There's a rising wave of using SIP trunking on the contrary of T1/E1 lines. The route offers instant access to all the services of VoIP and is an essential asset to businesses by minimizing telecommunication budget and shortening the way to infrastructural needs; it makes utilizing VoIP an easy task as it also carries data traffic, eradicating the need to segregate between voice and data.
SIP Trunking depends on the Tier 1 network, which gives you immediate access to most areas in the world, which makes your distance calls almost free of charge, and the same goes for your caller.
Minimize your telecommunication budget with SIP Trunking: 
One route carries both data and voice, which results in cutting down the costs of infrastructure to the half. One circuit=one service provider=one bill= a more efficient business.
No need for duplicate PBXs if you have different office locations, save space and power costs on duplicate infrastructure by switching to SIP Trunking. 
Use Pooled Concurrent Call Paths to share SIP capacity across your business SIP which delivers all perks of VoIP to your employers and it can be easily integrated with your current PBX.
Al-VoIP offers different categories of SIP trunking to suit your calling patterns. To Learn more about SIP trunks, visit this page or call us on (920013450)