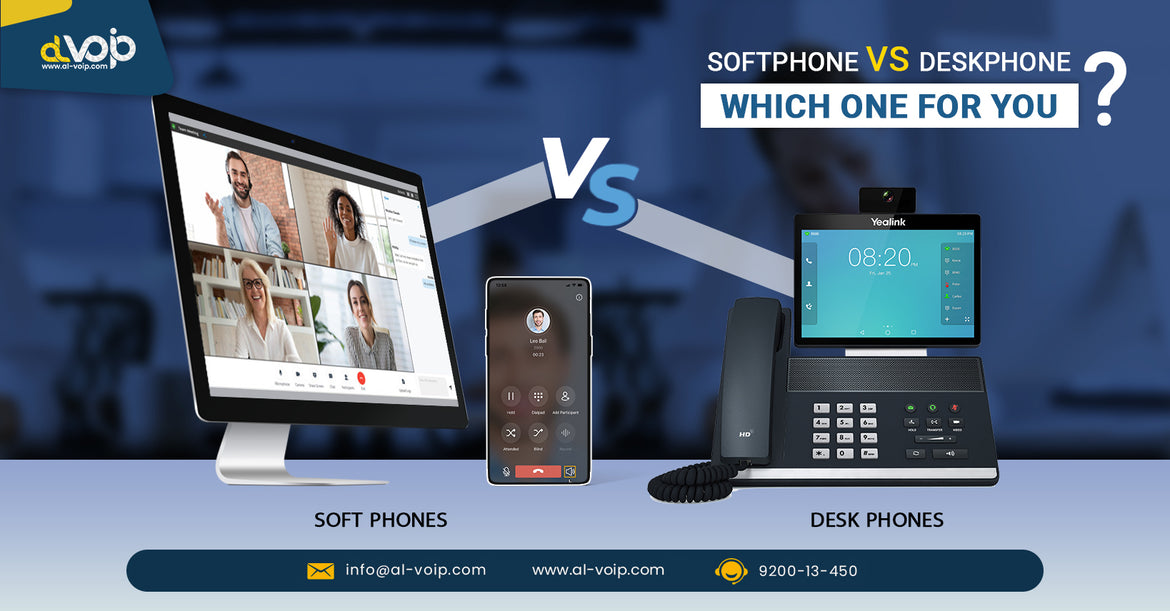 Which is better: a Softphone or a Desk phone?
Big Data, Business Phones Systems, Business VOIP, call center, Call center Systems, case study, category, Cloud, cost, CRM, Digital Transformation, Door phone, IP Phones, ipphones, partnership, PBX, Protection, SIP, ternds, tips, trend, video, video conference solutions, video conference systems, Video Conferencing Solutions, VoIP, VoIP Phones, VPN, yealink

22 Mar, 2022
You might have noticed that "softphones" has recently become a trendy VoIP keyword. What is a softphone, exactly? Why should you use a softphone? What's the difference between a desk phone and a softphone? Let's clarify all of your queries in this blog!
A softPhone is a VoIP phone that runs on your computer (PC) or mobile phone. It's a great choice for remote employees who don't have access to the office.
What's the difference between a desk phone and a softphone?
A simple comparison table illustrating the differences between a softphone and a desk phone can be found here:
| | | |
| --- | --- | --- |
|   |                 Softphone | Desk phone |
| Cost | A softphone is often provided at no additional cost to subscribers who have a service subscription. | Depending on the service provider and package, the price varies. |
| Flexibility | Anyone who has an Internet connection can install the softphone. It can be used on almost any device with an Internet connection. | Users directly use the physical desk phone. |
| Quality | Varies depends on the service provider.             | Voice quality is often greater on desk phones. With dedicated hardware, it is reliable. |
| Accessibility | Users get access to the same phone features through any devices remotely. A softphone is available anywhere with an Internet connection.      | Users must have their physical phone with them in order to use the phone's features. |
Which one is appropriate for me? Is it better to use a softphone or a desk phone?
Softphones are ideal for workers who work from home or on the road since they are completely portable and adaptable; however, other departments, such as tech support or emergency response, may choose to use desk phone with dedicated hardware for improved voice quality and productivity.
Most businesses use both softphones and desk phones to connect on- and off-site workers. What do you think? Which one would you prefer for your business?
Explore our website, Get our FREE consultation, or simply give us a call at  920013450 to learn more about VoIP service!