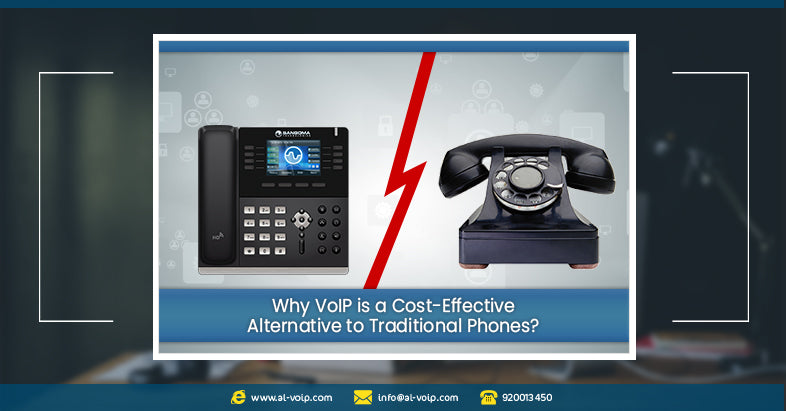 Why VoIP is a Cost-Effective Alternative to Traditional Phones?
Big Data, Business Phones Systems, Business VOIP, call center, Call center Systems, case study, category, Cloud, cost, CRM, Digital Transformation, Door phone, IP Phones, ipphones, partnership, PBX, Protection, SIP, ternds, tips, trend, video, video conference solutions, video conference systems, Video Conferencing Solutions, VoIP, VoIP Phones, VPN, yealink

16 Jan, 2019
What is VoIP?
•     Voice over Internet Protocol is a technology which allows voice communications over the internet instead of a traditional phone.
•     Telephone services availed using this service is known as internet telephony, IP telephony or voice over broadband telephony.
VoIP uses codecs to encapsulate audio into data packets, transmit the packets across an IP network and unencapsulate the packets back into audio at the other end of the connection. By eliminating the use of circuit-switched networks for voice, VoIP reduces network infrastructure costs, enables providers to deliver voice services over their broadband and private networks, and allows enterprises to operate a single voice and data network.
Advantages of VoIP over Traditional Phones
•     The most important advantage of VoIP is the low cost of calling because calling is done over the internet.
•     VoIP doesn't need additional hardware, so setup takes negligible time.
•     VoIP has multi-functionality which includes call Forwarding, call waiting, paging, group calls, and speed dialing that can be customized easily to support business of any size and type.
Market Growth by VoIP
•     As per the report by persistence market research, the market of global VoIP services is predicted to reach US$ 194.5 Billion revenue towards the end of 2024.
•     VoIP is becoming more and more popular and it is used by 22% of households with internet connections.
Why VoIP?
•     Increased productivity and reduced call cost.
•     Improved communication quality and enhanced coordination.
•     Supports modern features like mobility and portability.
Difference between VoIP and Traditional Phone
1.   Cost Effectiveness
•     While using VoIP, a client is not paying per call. Cost depends upon the pulse rate which may vary from 12 to 60 seconds.
•     But mostly in traditional calling, the client has to pay per call.
2.   Internet Connection
•     To use VoIP, it needs a broadband internet connection and an adapter to connect a phone call.
•     Traditionally, phone calls were made over the PSTN Public Switched Telephone Network) in which a dedicated Channel establishment is required for the phone call.
3.   Upgradeability
•     In VoIP, expansion is simply done by upgrading software and bandwidth.
•     Although, upgrading traditional telephone line requires the Installation of new tracks with the help of engineers.
4.   Features:
a.   Mobility
     - VoIP can be used over a smartphone as an office phone extension.
     - VoIP can route the business calls automatically to your mobile phone.
    -   In VoIP, a dynamic caller ID allows to customize the contact number, so one number can be shown for call 1 and another for call 2.
    - But a traditional phone doesn't perform above actions.
b.   Portability
    VoIP allows an agent to use any phone or even computer as a personal extension. This means that an agent is not confined to make or receive a call from his desk.
    VoIP allows agents to do work from their home as well.
    But in the traditional phone, an agent has to take all calls from his desk because it has the requirement of a hard-phone but in VoIP calling is done by the softphone
    Flexibility
    This feature of VoIP allows account creation for different extensions on the network, where users can login from a personal system and smartphone app as well
    Also, system management and call routing can be handled over VoIP.
    But mostly traditional phones are not flexible and cannot handle call routing