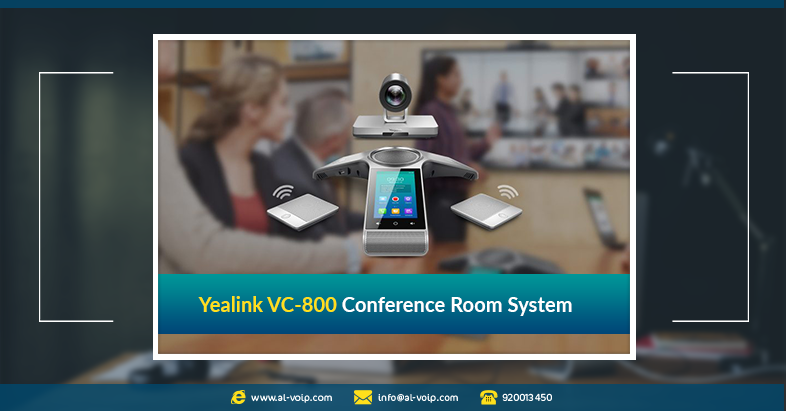 Yealink VC-800 Conference Room System_ Overview, Features and Where to Buy
Big Data, Business Phones Systems, Business VOIP, call center, Call center Systems, case study, category, Cloud, cost, CRM, Digital Transformation, Door phone, IP Phones, ipphones, partnership, PBX, Protection, SIP, ternds, tips, trend, video, video conference solutions, video conference systems, Video Conferencing Solutions, VoIP, VoIP Phones, VPN, yealink

22 Sep, 2019
The Chinese communication equipment leader Yealink has uncovered the VC-800 conference room system in 2017 as a new generation of conference systems that offer diverse features for workplaces.
Yealink VC-800 Conference System Overview
The all in one device makes workplace collaboration more effective and productive with all the required features and facilities including the easy to use interface and the more immersive video and audio experiences with the H.265/HEVC, Opus and Harman Kardon speaker.

The system is equipped with an MCU that supports HD video conferencing in 24 different sites and 2 virtual rooms making an excellent solution for long distance communications.

It also comes with high quality speakers and microphones with 360 degree and 20 ft sound pickup ability to facilitate high quality sound capturing in conferences. It also supports super packet loss recovery technology for video and audio and comes with many available integrations with major cloud services.
Features of Yealink VC-800
VC-800 conference system from Yealink comes with many features including:
Two-way video calls
2 virtual rooms
Up to 24 multipoint video conferencing
1080p/60 FPS with 12X zoom camera
H.265/HEVC codec
30% packet loss recovery technology
Touch phone with 5 inch screen
Harman Kardon speakers
2 DECT wireless expansion mics
2 HDMI output ports
2 HDMI + 2 Mini-DP input ports
Ready cloud integration
What is Yealink?
Yealink is a communication equipment industry leaders with more than 15 years of experience in the international market. The solutions of Yealink have always brought innovative features to the industry with continuous research and development of new products.

The patents yealink have awaited include patents in audio, video and image processing that were used in many of its products including conference systems that are distributed to 140 countries around the world.
Where to buy Yealink VC-800?
Contact us for more information on: