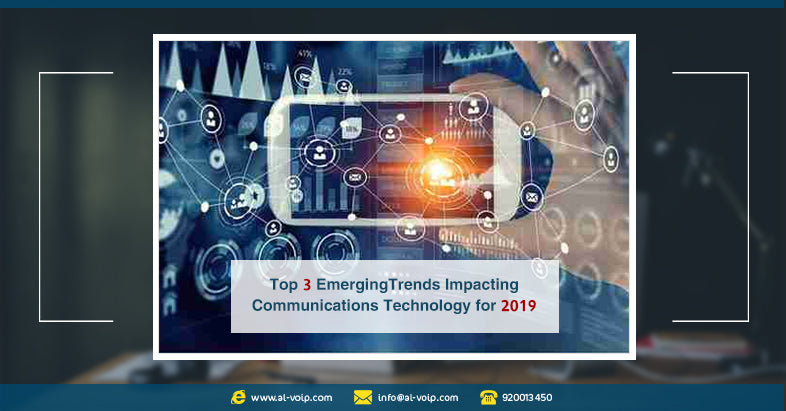 Top 3 Emerging Trends Impacting Communications Technology for 2019 ‬
Big Data, Business Phones Systems, Business VOIP, call center, Call center Systems, case study, category, Cloud, cost, CRM, Digital Transformation, Door phone, IP Phones, ipphones, partnership, PBX, Protection, SIP, ternds, tips, trend, video, video conference solutions, video conference systems, Video Conferencing Solutions, VoIP, VoIP Phones, VPN, yealink

29 Jan, 2019
Technological development moves notoriously fast in this day and age, especially with information and communications technologies. As platforms mature, new and existing technologies combine, evolve and commingle to form new opportunities. In order for enterprises to stay on top of trends and prepare accordingly, they must remain vigilant in keeping an eye on these developments. Before you can prepare for the future, you have to make an educated forecast of what it will look like.
As the year winds down and 2019 approaches, we're taking a look at a few of the top technology trends we think will be making an impact in the coming year. Most of them are the maturation of existing trends that continue to develop. While this list isn't exhaustive, the following are having a real impact or will be soon, and we'll be keeping our eyes on them throughout 2019.
Proliferation of Cloud Services
Cloud services
have been a major emerging technology for the past decade. If you've read this blog, you know we've been talking about them year after year. And yet, they still continue to be the main driver of change in enterprise technology stacks. Cloud has been disrupting every aspect of traditional IT business operating models, and industry analysts predict that the current cloud adoption push will continue to experience 23% CAGR (Compound Annual Growth Rate) through 2022.
Cloud services
continue to expand and differentiate, from SaaS to Infrastructure as a Service (IaaS), Platform as a Service (PaaS), Communications Platform as a Service (CPaaS), Unified Communications as a Service  (UCCaaS), Video Conferencing as a Service (VCaaS) and more. Enterprises that have adopted
cloud services
experience improved time to market (making them more competitive), increased efficiency and, when done correctly, realize reductions in IT spend.
Cloud services
also enable faster access to infrastructure, greater scalability and higher availability. Those are major improvements for any enterprise and show, that at least for now, cloud is here to stay and there is plenty more room for growth.
SD-WAN
An SD-WAN is a software-defined wide area network, an application of software-defined networking technology that simplifies WAN (Wide Area Network) management by decoupling network hardware from control mechanisms. Conventional network architectures were not built for the demands of a cloud-first workplace, and SD-WAN enables easier access to cloud applications for geographically-distributed offices and a mobile workforce. It allows enterprises to build higher-performance WANs using lower-cost commercial Internet access. SD-WANs are also quicker to establish and reconfigure, since the network becomes a logical layer, compared to all the overhead and latency of implementing a traditional hard-wired physical network.
Gartner forecasts that SD-WAN technology will grow at a 59% compound annual growth rate through 2021 to become a $1.3 billion market. And it's no wonder why. By bringing the principles of the cloud to networks, SD-WAN brings various benefits to enterprise IT, such as faster
network
deployments, resilience, security, lower costs, simpler management, agility and scalability, and improved application delivery.
Autonomous Things
Topping Gartner's list of Top 10 Strategic Technology Trends to look out for in 2019 was "autonomous things," and we'd be remiss to not include it here. So what are autonomous things? "Autonomous things" is an emerging term for technologies that are bringing computers into the physical environment operating as autonomous entities without human direction. While this encompasses a broad range of technologies combining AI, drones, and other tech, Gartner breaks it up into the following categories: vehicles, drones, appliances, agents and robotics. The real value achieved by autonomous things is that they are able to capture and transmit information and seamlessly communicate it via the network to back-end systems where that data can be automatically analyzed and acted upon.
Over the coming years, almost every application, service and IoT will incorporate some form of AI automation for certain tasks and narrowly-defined purposes. One thing is certain: the development of AI in existing technologies will be a major driver of innovation and disruption in the near future. As autonomous things proliferate, experts expect the focus to shift from individual autonomous objects to swarms of collaborative devices working together, with or Without human input.
al-voip.com can help you to develop your company network and VoIP infrastructure to be ready for AI applications and benefits - call us now
 

(920013450).

 

 
yealink-video-conferencing-room-system-vc800
grandsteam-video-conference-gvc3202
yealink-ip-phone-sip-t58v
yealink-ip-conference-cp960
cisco-ip-phone-8845
yealink-ip-phone-t49g