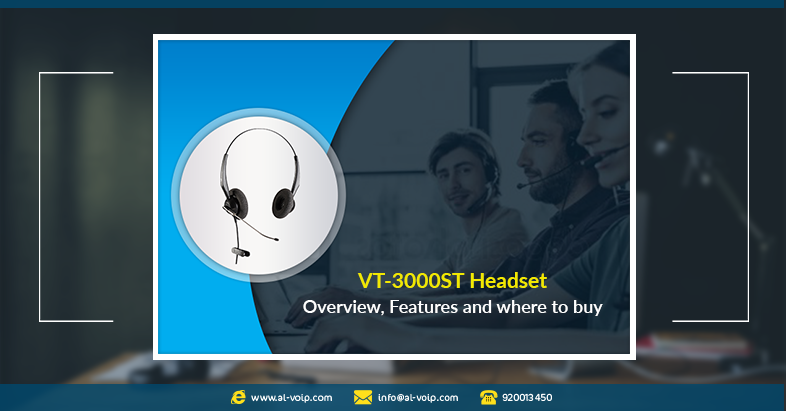 VT-3000ST Headset_ Overview, Features, Where to buy
Big Data, Business Phones Systems, Business VOIP, call center, Call center Systems, case study, category, Cloud, cost, CRM, Digital Transformation, Door phone, IP Phones, ipphones, partnership, PBX, Protection, SIP, ternds, tips, trend, video, video conference solutions, video conference systems, Video Conferencing Solutions, VoIP, VoIP Phones, VPN, yealink

20 Aug, 2019
The phones or computers and the headsets of a customer service center are it's most valuable assets. With many choices of headsets for customer service purpose, VBet offers a range of products for various budgets that include the headset VT-3000 ST which offers a good price and a number of features.
Overview of VT-3000 ST headset
The headset comes with focus on voice clarity as it support Sound Tube technology in order to make the quality of voices more clear and better as it targets call center usage. In addition to the excellent voice quality the headset also offers an omnidirectional microphone with high quality voice capturing.

Among the features supported by the headset is the Active Protection technology for protecting ears of the employees and it support also the automute feature that works smartly. It is also designed to have more durability and more lifespan.
Features of VT-3000 ST headset
The budget headsets for call centers from VBet come with a range of good features including:
● Sound Tube technology support
● Active Protection technology support
● Automute feature
● Quick Link function support
● Omni directional mic
● Excellent sound
● High durability
● Increased stability
● Ultra Flex microphone
What is VBeT?
VBet is one of the world's largest communication headsets providers. The Chinese company designs and manufactures its headsets that include UC headsets, wireless headsets, contact Centre headsets, headset telephones and amplifiers among other electronic products related to acoustics.

The famous brand has over two decades of experience offering reliability and excellent performance and it has world wide partners and distributors.
Where to buy VT-3000 ST headset?
If you are searching for the best place to buy VT-3000 ST headset from VBeT, then you should check Al VoIP.
Contact us for more information on: