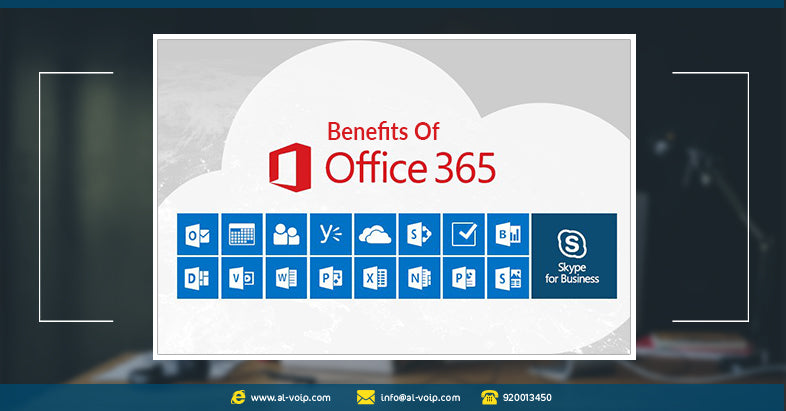 What Benefits Do You Get From Office 365
Big Data, Business Phones Systems, Business VOIP, call center, Call center Systems, case study, category, Cloud, cost, CRM, Digital Transformation, Door phone, IP Phones, ipphones, partnership, PBX, Protection, SIP, ternds, tips, trend, video, video conference solutions, video conference systems, Video Conferencing Solutions, VoIP, VoIP Phones, VPN, yealink

17 Feb, 2019
A PBX is crucial to your business if you want faster and smoother communication, but what if you can get all the potential and capabilities of PBX minus the pricey and difficult equipment?
We have that solution at Al-VoIP! As an add-on, the phone system in Office 365 add-on offers you the same PBX potential without the hassle of dealing with complicated equipment and paying a ton of money.
The add-on is a plug and play system, Skype for Business makes your daily tasks 10x times easier. There will be no headache in tasks such as; call transference, call mute and un-mute.
And it's there as long as you have internet. How simple is that?
There are many features for the phone system in Office 365, and they're effective immediately when you add it to your system.
By using Phone System in Office 365, your Skype for Business users will get the following features:


Touch Feature
With a touch of a finger, you'll be able to handle all the calls, whether inbound or outbound.
You can easily do that by clicking the chosen name in Skype for Business or Outlook.
Automatic Phone System
Skype for business's phone system builds a full menu for your internal and external callers where they can be easily located to both receive and transfer calls to, in all the different departments of your company.
Holding Calls
When calls are flooding your agents, this feature becomes the go-to. When they answer the next inbound call or place an outbound call, the current call goes automatically on hold.
Caller Identifier (ID)
Know your call before answering the call. Office 365 gives you a full profile on the caller that shows you the job title and picture of the person placing the call. This is only for inbound calls as it gathers the information required from the company directory.
Device Shift
Office 365 allows you the freedom to take your meeting on call on any other device you want.
Transfer Calls
You don't have to be tied to anything to take your calls; as it allows you instant call transference to not only another person but also to another device. Ex: from your IP Phone to tablet or even mobile.
Customized Alerts
Easily categorize your calls by creating different ringtones for the types of callers and calls you get. Save your time!
Video Call Friendly Via Skype for Business
Always see your caller through a floating window and enhance your communication!
Simultaneous Ringing
This priceless feature enables your calls to go anywhere you will them to be, you can forward them to voicemail or colleague. Don't miss a call!
Call Queues
Phone System call queues are the automatization of greetings when someone calls your company, it can put the calls on hold and find the next available agent to take the call while the caller is listening to the hold music.
Compatibility
Office 365 is compatible with everything, you can enjoy all these features on devices, from IP phones to mobiles and desk computers.
Music on hold
This feature keeps your callers entertained by playing music when you place a call on hold, it also lets them know that the call is still going.
Skype for Business: Efficient Voicemail Features
Voicemail can be tricky to catch and keep track with. However, with Skype for business, it is delivered directly to the users' mailbox. The messages will also be available on their Skype for Business applications, IP Phones, and Lync.

To know more about Office 365, please contact us on this number 920013450. We are ready to answer all your questions!