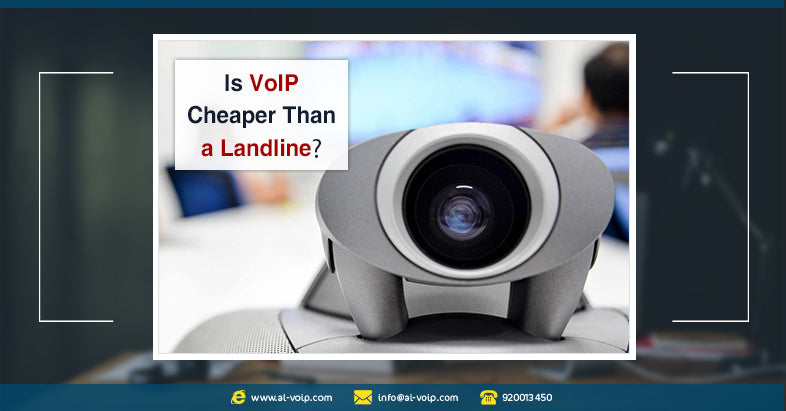 Is VoIP Cheaper Than a Landline?
Big Data, Business Phones Systems, Business VOIP, call center, Call center Systems, case study, category, Cloud, cost, CRM, Digital Transformation, Door phone, IP Phones, ipphones, partnership, PBX, Protection, SIP, ternds, tips, trend, video, video conference solutions, video conference systems, Video Conferencing Solutions, VoIP, VoIP Phones, VPN, yealink

28 Jan, 2019
The short answer is yes because instead of using a separate system with different hardware, VoIP uses what you already have – your Internet connection.

How Is VoIP Cheaper Than a Traditional Landline?
One Single Network for All
Your traditional landline sends communications through an analog private branch exchange (PBX) system while a VoIP system allows you to transfer voice and data via one network, eliminating the need for multiple service providers. This will cut your monthly communication expenses significantly!
No More Long Distance Calls
Also, since all VoIP phone calls are made through your Internet connection, there will be no long distance call fees. If you are an international business that makes lots of international calls, VoIP can save you a huge fortune by treating all calls equally with a monthly fee.
Unified Communication (UC)
With VoIP, you will be able to collaborate better with your team, saving time and money. There are many Unified Communications (UC) phone features that will help you improve work efficiency and effectiveness such as auto attendant, find me/ follow me, voicemail to text, shared line, and more.
Management and Maintenance
If you choose a hosted service, your service provider will manage and maintain your system and hardware for you, saving you lots of hassle and leaving you more time to focus on your core business! No onsite staff is needed.

Ready to learn more? Check out some useful articles below or simply contact one of our VoIP experts at 920013450 to get your questions answered!