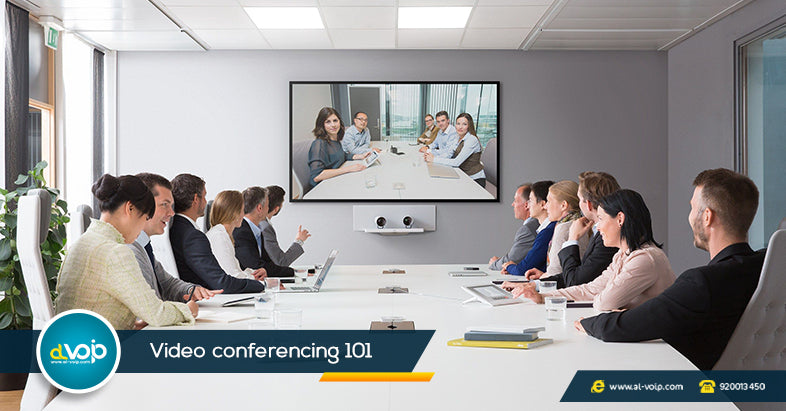 Video conferencing101: complete guide to video conferencing in the business world.
Big Data, Business Phones Systems, Business VOIP, call center, Call center Systems, case study, category, Cloud, cost, CRM, Digital Transformation, Door phone, IP Phones, ipphones, partnership, PBX, Protection, SIP, ternds, tips, trend, video, video conference solutions, video conference systems, Video Conferencing Solutions, VoIP, VoIP Phones, VPN, yealink

31 Dec, 2020
The business world is changing faster than ever, and if you couldn't catch up with this innovation you would lose a lot of opportunities and you may be out of business.

It's our duty in al-VoIP to provide you with the best solutions customized to your business to thrive and grow, whatever your business size and scale.

Video conferencing is one of the solutions that we present today. It guarantees your superiority over competitors, better communication &collaboration, cost reduction, and more.

So let's know more about video conferencing "the new normal of communications":
What is video conferencing?
(Video conferencing definition.)
"A video conference is a live, visual connection that allows two or more people to communicate and collaborate in real-time while being in separate locations."

Video conferencing solutions not only allow participants to see and hear each other in high-quality audio and video connection it also provides the option of sharing the screen, document, and presentation during the meeting.

Video conferencing is a highly flexible technology that could be conducted in a room- based or web-based conferencing. Many video conferencing platforms can make use of both web-based and room-based systems.
What technologies and equipment are used in video conferencing?
(Video conference components).
Video conferencing system depends on a variety of different pieces that worked together to send data to participants and create the feeling that the participants are all in the same room.

These components can be modified depends on your organization's needs and requirements. And we have a specialist team in "AL-VOIP" that can design you the perfect suitable system.

The components of the video conferencing system include:
1. A SOFTWARE
We can consider the video conference software as the brain of the conference system. Scheduling and initiating any video calls is done within the software.

There are a lot of different programs that exist. And you can pick what fits your business. For instance (zoom |skype |Microsoft teams| cisco webx meeting |yealink meeting) each software has its pros and cons.

Software that generates the video conference could be integrated into the hardware or is a stand-alone app that works with a variety of devices.
2. VIDEO INPUT/OUTPUT
The participant in a video conference needs a way to see each other and be visually connected.
• Video input equipment is:
A camera

(webcam attached to a laptop or a stand-alone video camera)

• Video output equipment is:
A monitor

(laptop screen, desktop monitor, a video projector, LCD, or video wall) the size and type of the display will depend on the size and number of people the room is designed for.

 A high-resolution webcam is essential to catch up with facial expressions and body language. If details like that get lost, then the meetings lack the reliability of real-life, face-to-face interactions
3. AUDIO INPUT /OUTPUT
The audio needs to travel in and out of the conference clearly to ensure a productive conference.
• Audio input equipment is a
microphone

or a set of microphones according to the setup of the conference (microphone might be built in a device or stand-alone piece)

• Audio output equipment are
speakers

that could be built into a laptop or desktop or a fully integrated audio system.

• Conference phone purpose-built for video will have echo cancellation, automatic noise reduction to give meeting room participants crystal clear audio.
4. Fast INTERNET CONNECTION
A high-speed internet connection is essential for video conferencing, as the high-resolution audio and video data need to travel from participant devices to the others. Your call will dynamically adjust to give you the best possible quality with the available network.
The faster the internet connection that the company has, the better the video quality it gets.
5. FAST COMPUTER PROCESSING
You need a computer with a sufficiently fast processor to avoid downgraded audio and video quality. And make the best possible call for your system's specs.
What are the advantages of video conferencing?
(Importance and benefits of video conferencing.)
In the business world, video conferencing has numerous benefits that increase your business productivity and improved communicating and interaction with colleagues, partners, and customers. Among the benefits are:
1.FLEXIBILITY AND PRODUCTIVITY.
You don't have to worry again about being late for the meetings because of the traffic or the weather or even global air traffic. Video conferencing technology allows you to schedule a meeting with any number of participants, it doesn't matter where they are located .and you can even record it and make it available for people who could not attend the live event.
2.HELP REMOTE WORKERS FEEL PART OF THE TEAM:
As known covid-19 pandemic and its repercussions have made remote working and work from home the new normal of the world. Although a lot of people who work from home love it, it has some psychological consequences for the worker's mental health.

They feel isolated and lonely from their co-workers. So video conferencing systems have got rid of this problem by enables them to see and engage face-to-face remotely.
3. Video conferencing and cost control:
You might say that the video conferencing system is too expensive and will ruin my business budget. But this not true at all. It will save your money and control your cost as follows:

•

Lower travel budgets

:
You will hold meetings and interview from your place so you will not afford more expenses such as flight tickets and hotels.

•

Reduce training cost

:
You will be able to gather all your employees from all branches and provide training sessions without waste more money and time.

•

Shortened project times

:
As a result of improving communications among team members, they will spend more time working and collaborating without any external distractions.

•

Reach a wider audience and make more money

:
Video conferencing provide you the chance to spread your businesses all over the world and connect easily with foreign suppliers and distributors which allows your business to thrive and make more revenue streams.
4.IMPROVE THE QUALITY OF YOUR STUFF:
Video conferencing allows you to hire anyone from anywhere. It makes your company's applicant pool much bigger. So you will pick the highly qualified applicants without being stuck to local employees.
Are there disadvantages to video conferencing?
I cannot consider it as disadvantages I prefer to call them as "potential drawbacks" or "concerns" that business owners experienced when they consider adding a video conference system to their organizations And some of these concerns are the following:
1. The cost of the technology:
This a very common concern because so many people wrongly believe that video conferencing systems are extremely expensive.

As you know any new technology needs an initial investment (the price that you pay for the first time to own this technology) and video conference, provides high and fast ROI because it reduced your travel expenses, improves efficiencies, and better customer support.
2- Required training:
Video conferencing is a new, advanced technology that needs a lot of training, right? WRONG.

Today's video conferencing systems are more user friendly and super easy than ever before. With a few clicks, you will be able to hold live meetings and share whatever you want. And we in al-VoIP provide additional training once the system is installed.
3. The reliability of the system
One of the biggest concerns about this technology that it isn't reliable and meetings freeze and ruined easily.

But video conferencing technology has greatly advanced and become reliable than ever especially after the covid-19 pandemic. In addition to that internet, connection speeds are increasing. Which helps to keep video streaming smoothly.
4. Time zone differences
The difference in time zones might be a problem in video conferencing when you conduct meeting with people in other parts of the world. For instance, a 3:00 pm meeting in Saudi Arabia would be 8:00 am in the United States.

But these challenges are included in any type of meetings, not just video conference .so in return for all advantages of video conference you can schedule meetings that are at least disruptive to all participants.


Video conferencing is no more a luxury but it has become a must in nowadays business world. We tried in this article to show you what it's mean and the advantages and concerns that you might experience.
Get started with an enterprise video conferencing system! Start Now AL-VOIP.
You can check out the latest communication solutions for business and video conferencing systems available from
Al-VoIP.
Contact us for more information on: